Growing up in a highly patriarchal society has been a big challenge for me and every other young woman and girl out there.
In my community there are many incidents of gender-based and domestic violence, and most abusers go unpunished.
This has to stop. One act of violence is too many. Violence against women and girls is not a culture.
My name is Ashley Yevtte Uswahwengai, and I am a 25-year-old resident of Hopley Farm, a peri-urban suburb in the south of Harare, Zimbabwe.
Here we have poor infrastructure with just one health centre servicing Hopley Farm and the neighbouring communities. This means there is a lack of services, and l had little knowledge about gender-based violence and other sexual reproductive health issues affecting young people, and nor did my peers.
Becoming a Restless Development volunteer
I had been volunteering with my local church for some time because I wanted to make a positive impact on my community, and then I heard about Restless Development. I took up a volunteering role with them, to educate young people and increase their awareness and knowledge on gender-based violence, drug and substance abuse, and sexual reproductive health and rights issues that affect them.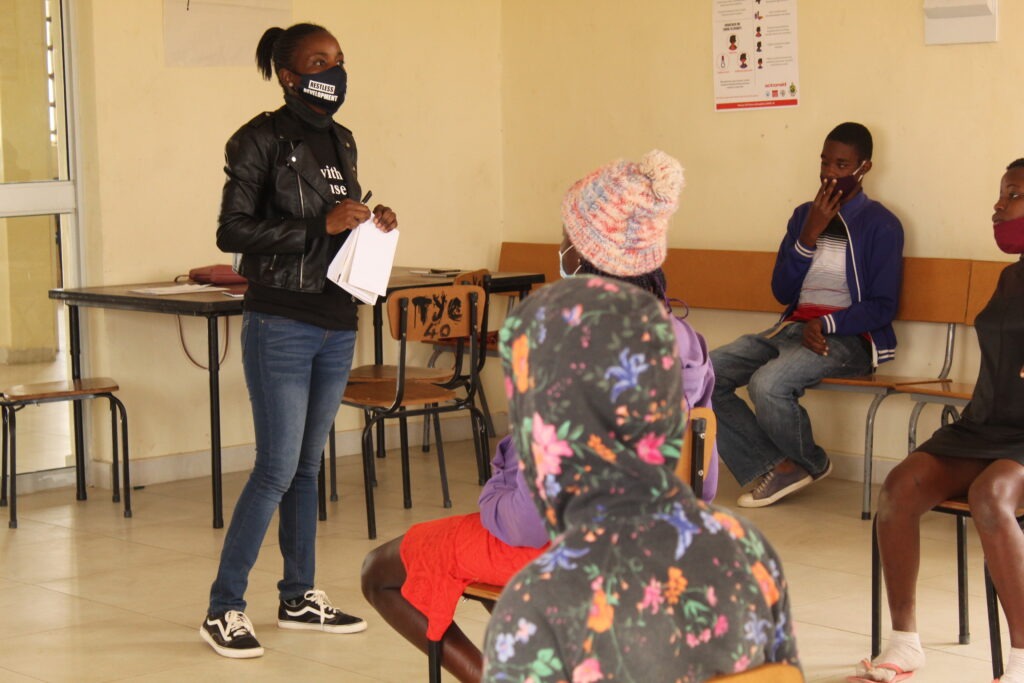 I have been leading community dialogues on gender-based violence, comprehensive sexuality education sessions, and skills training for young people. I have also been raising awareness about Covid-19 with my partners in the community and how they can protect themselves and their loved ones, including fighting dangerous misinformation by posting information to houses and at water points.
Launching my own campaign
It was this involvement that led me to found my own campaign: "One Too Many: End Violence Against Women and Girls."
I took it upon myself to raise awareness in the community and encourage others to take action to end the violence, which had surged across the country especially during lockdown.
It is essential that all women and girls know how to report incidences of gender-based violence. I have been able to see how important multi-stakeholder involvement is to the care and management of survivors of gender-based violence as service providers are few and institutions often short-staffed.
Becoming a leader in my community
Working with young people on SRHR and gender-based violence was a new challenge to me however, the training I received gave me the confidence that I was capable. Carrying out this work as a girl was a barrier in itself.
It was difficult to be taken seriously as many people in the community still look at young girls as needing protection and support. But I have overcome this barrier.
As girls, we are still having to prove ourselves and make the world realise our potential. We want to see a world where women and girls' roles in society are valued and we are given equal opportunities.
I also went through a youth-led research training which equipped me with the skills to gather evidence on the effects of gender-based violence on young people in my community so that I can press for change from decision makers.
I deeply believe that every single incident of violence is one too many and action must be taken. Gender-based violence issues should be on the national agenda and l am calling for our government to respond proactively if we are to create a safe environment for all.
Take action against gender-based violence
Stories from other young leaders.