As the pandemic hit, people around the world retreated in doors for safety. For too many women, home is not safe. We have to change that.
Reports have shown an alarming increase in the already existing pandemic of violence against women.
The Youth Power Panel is asking for leaders to raise the bar and make sure funding is inclusive, Gender Based Violence is prevented, inequalities are responded to and data is transparent. Join Us. Sign the letter below.
Dear world leaders,
We need to raise the bar.

You've made commitments, passed laws and shared actions to eradicate gender based violence, include women and insure equality. However, the standards are too low.

Not only are the targets not ambitious enough, they are not being reached.
The COVID-19 crisis has shown domestic violence has increased; women are those at the frontlines, yet they are also those who are not compensated correctly while still bearing most of their household burdens.
This is the hidden pandemic.

The Sustainable Development Goals (SDGs) point to a world where women are fairly treated: they have equal rights to ownership (SDG 1.4), they have access to universal healthcare (SDG 3.7) and they have access to education (SDG 4.2). We believe in a world with decent work and equal pay (SDG 8.5), increased access to financial services (SDG 9.3) and inclusion in all spheres of society (SDG 10.2). Women are instrumental in achieving sustainable lifestyles (SDG 12.8) and for this they
need to be part of the decision making process (SDG 16.7).

We're not asking for promises. We're asking for accountability. We're asking for action to fund, prevent, respond and collect data.

We've asked you to act faster and to #turnitaround. We now ask you to act better.

Today we ask you to join us in making gender a priority as a crosscutting topic to achieving all SDGs, not only through laws but also through their implementation. We ask for:
Concrete actions to eliminate all forms of violence against ALL women and girls in the public and private spheres; including girls with disability, low income, LBT women and girls, black and indigenous women.
Funding to be rapidly available for women's rights organisations.
Inclusion of women in all decision making processes not only praising them for being at the forefront of action.
Collection of data through young people to improve current Gender Based Violence (GBV) services, helping elevate young voices, shaping the future through youth power and action.
We await your urgent and bettered actions. The women of our world need you.
Yours sincerely,
The Youth Power panel &
Did you sign?
Thank you for signing. Now it's time to use your youth power to Share, Inform, advocate and mobilise to make GBV history.
Share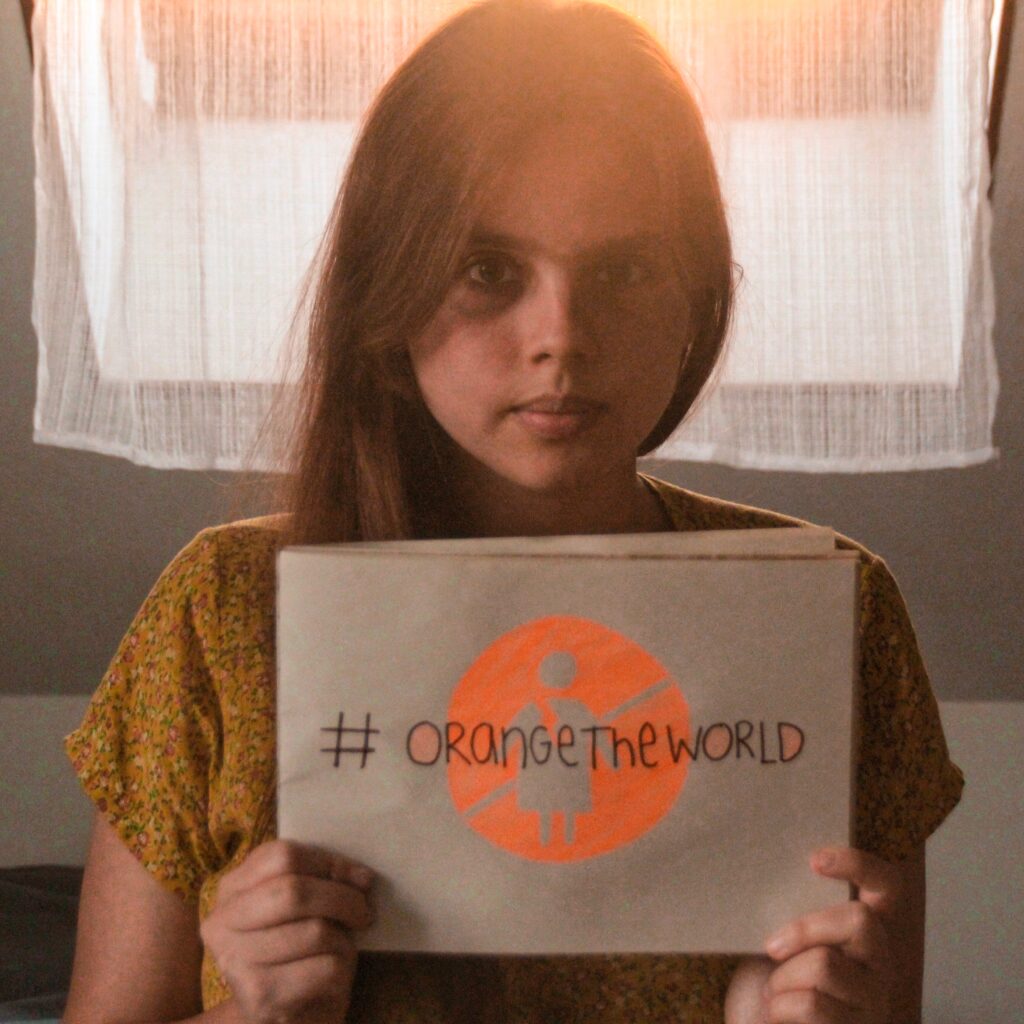 Why not add a picture and tag two friends to invite them to join the campaign using #OrangeTheWorld #YouthPower #HiddenPandemic?
Inform
Share stories of resilience and information about Gender Based Violence in the next 16 days.
Advocate
Share the letter with policy makers in your country. ask your local or national decision maker how they will be raising the standard and monitoring the progress in your area/country.
Send them an email, give them a call, ask for a meeting, or invite them to a creative event!
→ Tag decision makers in tweets
→ Challenge decision makers to take a photo with the letter to show their support using #YouthPower #OrangeTheWorld
A letter to world leaders
Download this letter and sign below to help us make our voices louder, clearer and more powerful.
Download
PDF / 99.75 KB
Mobilise
Create a workshop giving young people a platform to learn and debate about these issues.
Share what your GBV plans are, or work with others to organise workshops, discussions or other actions to take on GBV.