Young People should be at the heart of decisions that affect their lives.
We believe that young people are experts in their own experience. They have the energy, and professionalism to speak for themselves. That's why we believe in youth-led research.
This exciting two month participatory research project was executed by a group of 12 young co-researchers from Sahel, Horn of Africa and MENA regions. They designed the methodology, collected the data, analysed and presented their findings.
From their research, they launched four 'Youth Principles' to help guide solutions to problems young people are facing related to their education and work, brought about by the COVID-19 pandemic, and a guide for the essentials of meaningful youth participation.
The principles are:
Build a more relevant, sustainable and effective enabling environment for education and work systems for young people, that recognise their rights and will.
Involve young people at all levels in decision making processes that will affect their lives.
Partner with young people to build a better, more resilient world for all generations.
Read these resources in full:
The Research
Through the research, the 12 young co-researchers captured their peers' insights on education, the future of work, skill building, and their voice in society. Because this research came in the middle of the COVID pandemic, we wanted to ensure that we acknowledged this in the research design. So, we also captured insights on: the involvement of young people in local and national responses; what can be done to 'build back better' after the pandemic; and the role for youth leadership and participation in doing so.
Youth of today are the leaders of the tomorrow. The more we are invested in, the better we lead the nation. Participating in this research is fascinating, and it is once again focusing capacitating a better skilled youth and leaders.

Hadia Ali Daoud, a young researcher
Ultimately, the research informed key conversations at the Youth at Heart Virtual Forum led by the Netherlands Ministry of Foreign Affairs. The key were showcased at the virtual forum sparking conversations by governments, UN agencies, private sector and civil society to put youth at the heart of policy discussions around education, work and COVID19 recovery.
Meet the Researchers
Aya-Maria Rouhana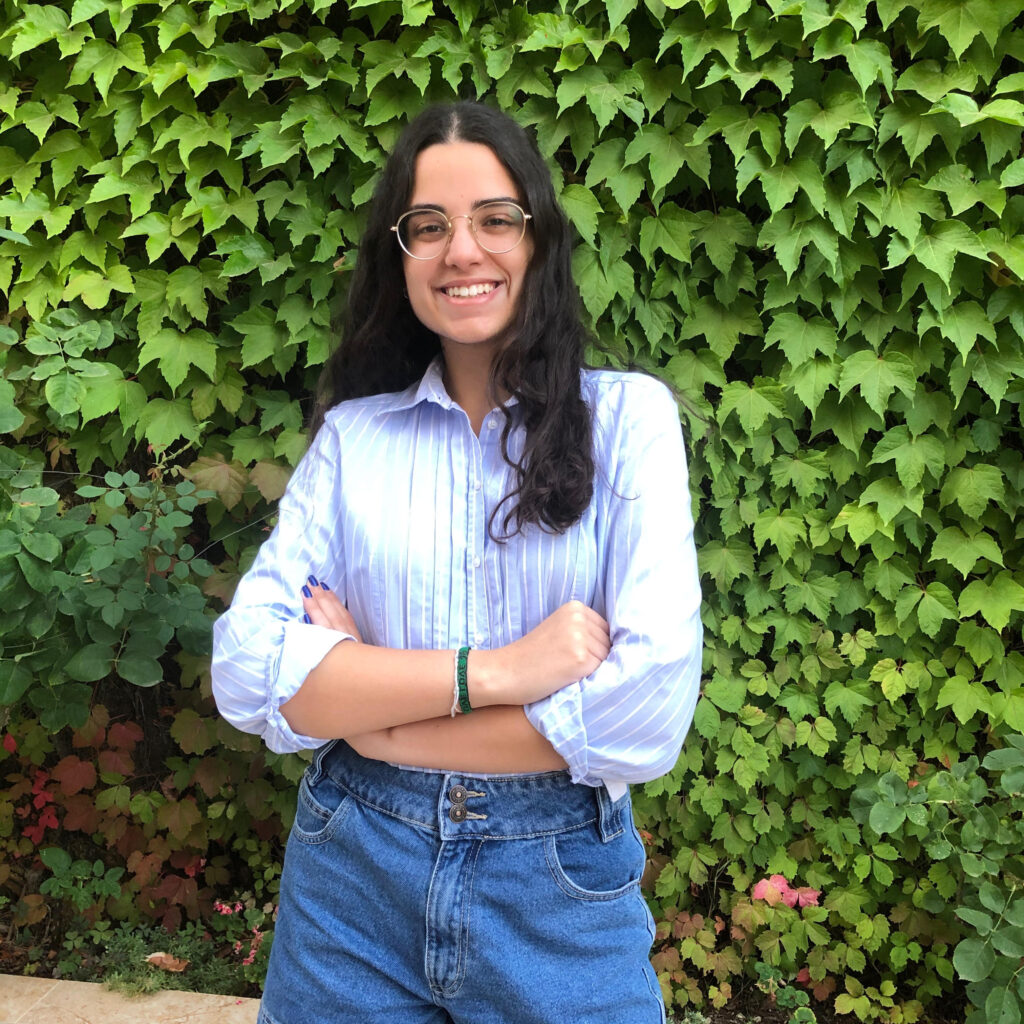 Aya-Maria is an 18-year-old activist and economics student from Lebanon.
In 2018, she founded REACT Club, a human rights and humanitarian community, with the slogan BeTheChange, that has enabled over 60 young changemakers to use their voices and lead by example. She is also a Girl Guide leader and a strong advocate for gender equality and women empowerment.
The new normal is today in our hands. It is up to us, young people, to
shape the future as we want, to turn this global pandemic into a chance to build more resilient communities.
John Youhanes Magok
John is the Founder and Executive Director of the Nile Youth Development Actions (NYDA), a grassroots catalyser focusing on entrepreneurship, employment, education, and inclusive engagement to advance socio-economic development in South Sudan and Ethiopia. He has a Bachelor of Science in Mining Engineering and a Masters in Environment and Climate Change Management. He is a youth advocate with the African Youth Union Commission (AYUC) and regularly speaks about African youth employability and the role of civil societies in Post Conflict Reconstruction in Africa.
Young people across the continent, despite being the majority, remain at the margins of states' affairs. We need to put young people at the centre of the agenda.
Mahmoud Salah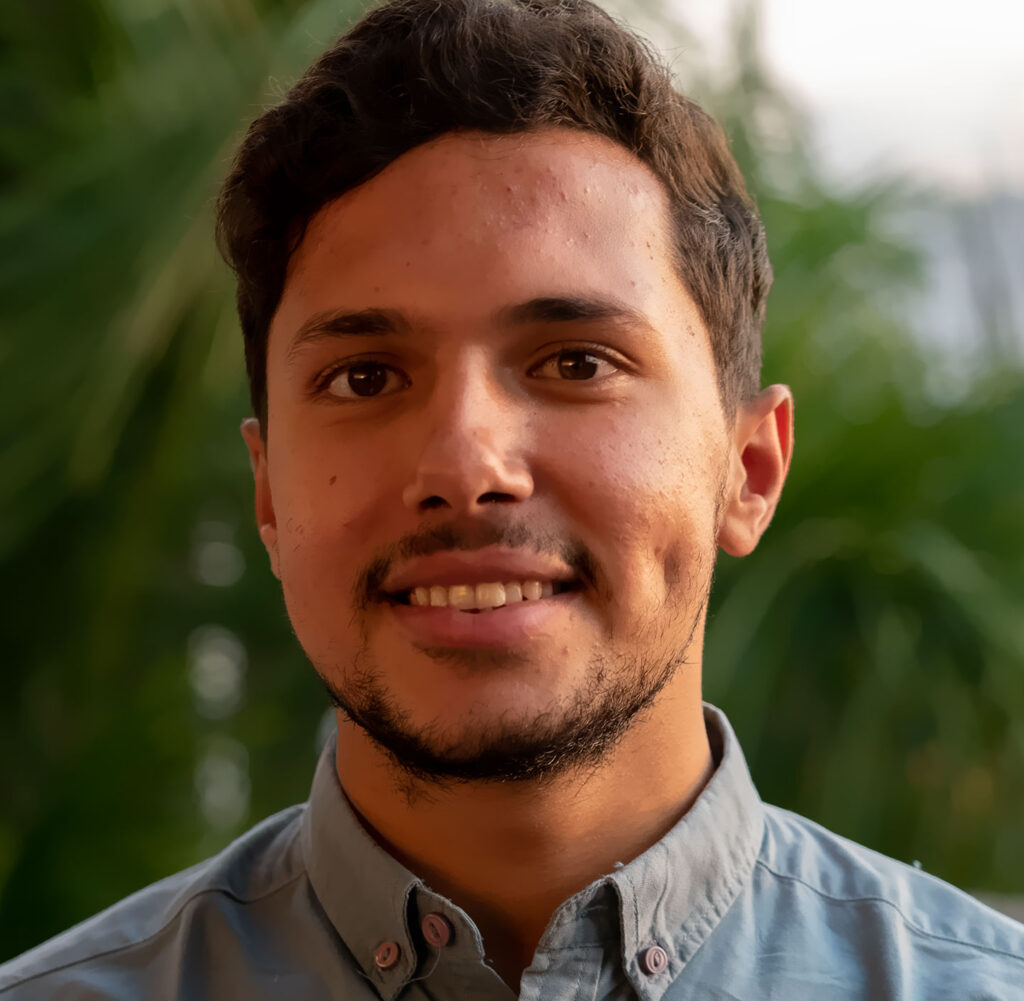 Mahmoud is a medical doctor, and a discussion board moderator at Love Matters Arabic. He develops curriculums, and trains trainers working in sexual health, sexuality and gender. He is passionate about providing access to information about SRHR and GBV to people in their language, that's why he wrote a section in the UNFPA 2018 manual on SRHR in Arabic. Mahmoud has also done a lot of work to fight HIV and AIDs.
Tsion Mengitsu Ademe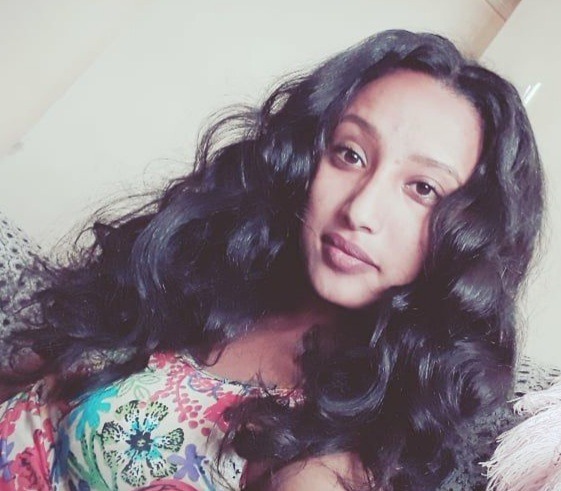 Tsion is a software engineering student from Ethiopia. Her journey in social change began as a volunteer in her local community in 2014, helping young people to get a formal education and providing them with basic necessities. Since starting university she has begun mentoring under-served girls in Addis Ababa. She meets with her mentees twice a month to build academic, communication, and personal development skills, helping them to create effective social relationships, and build self knowledge and self esteem.
I believe there are so many things that haven't been discovered in most of the youth. We should dig deeper beyond the boundaries and push the limits, by valuing every single one of our voices no matter what!
Hadia Ali Daoud
Hadiya is an activist, and independent
researcher with a passion for improving the quality of education in her home
country of Somaliland. She founded the Somaliland Development Group (SDG), with like mined peers to campaign and advocate, with communities and politicians, for free and quality early education in primary and secondary schools in urban and rural areas.
Youth of today are the leaders of the tomorrow. The more we are invested in, the better we lead the nation. Participating in this research is fascinating, and it is once again focusing capacitating a better skilled youth and leaders.
Ebrima Ceesay
Ebrima is a fervent gender activist and a passionate environmentalist. He draws his zeal from the realisation that the voices of the underrepresented groups in his community need to be heard for a just and better society. He works with the Network Against Gender Based Violence and serves as the Vice Chairperson of He for She – The Gambia. He is a bookworm who reads at least one book every week, and now he's working on publishing his first peer reviewed paper. His own group, The Solutionists, have turned their attentions to raising awareness about COVID19.
Young people should take advantage of our immense presence on social media to amplify our voices to reach our peers and fight COVID19 in our communities.
Kevin Lunzalu
Kevin is a young conservation leader from Kenya. He is passionate about
working with young people to address disproportionate environmental challenges,
policy advocacy, research, and storytelling. His past work has mostly entailed youth-
led environmental conservation, landscape and nature restoration, marine protection,
climate-smart farming systems, environmental policy, and environmental journalism. Kevin co-founded the Kenyan Youth Biodiversity Network in 2017 to engage young people on innovative and sustainable action programs aimed at halting biodiversity loss and mitigate the climate crisis.
I am excited to be part of a team of young people who are working together to seek the contribution of their peers in developing sustainable roadmaps, through research, that will help us build back better.
Taibat Hussain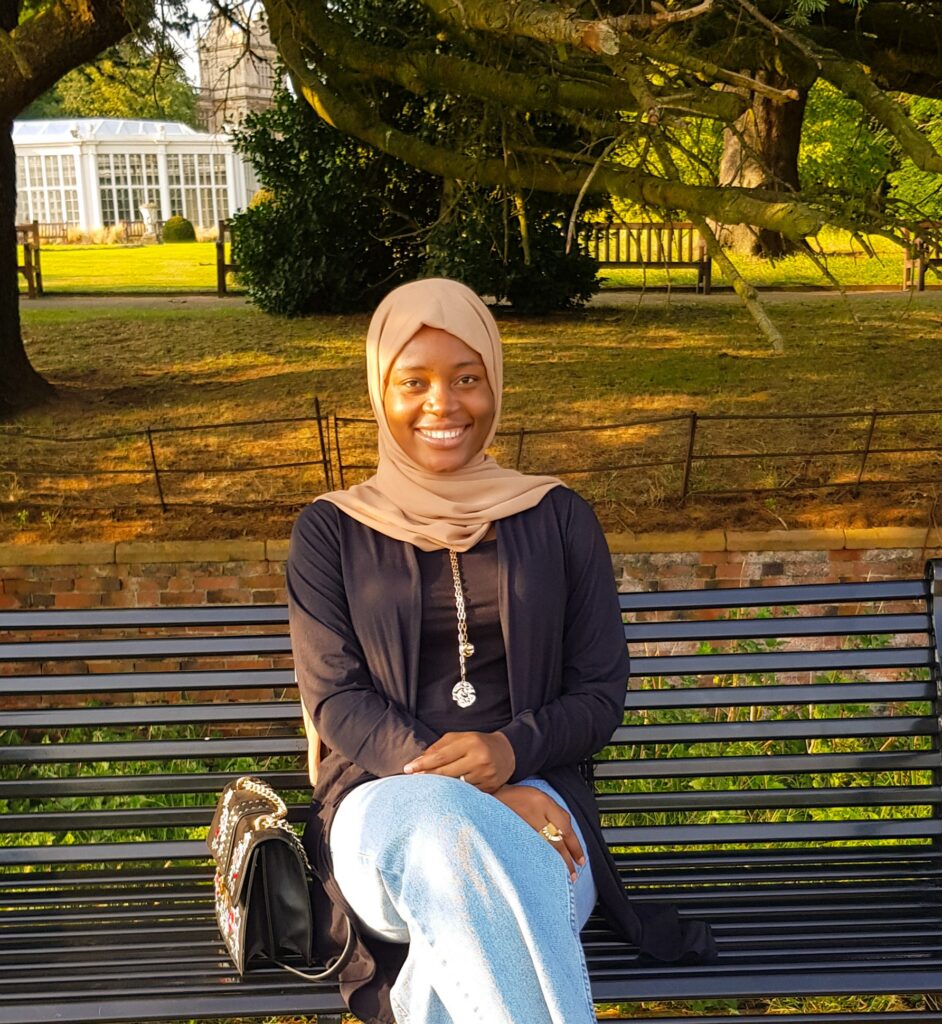 Taibat is a development economist who is passionate about sustainable development, with a focus on education, youth development, women's advancement, and social policy. She is currently writing her master's thesis on education and unemployment, assessing the "effectiveness of skills-development programs to reduce graduate youth unemployment in Nigeria." She empowers young African women to use their voice through an online platform called Women Speaker Tribe.
The skills mismatch between the quality of graduate youth produce and those demanded in the labour market poses a great barrier to youth employment. This justifies the need for this research to influence government interventions/actions.
Nashwa Mohammed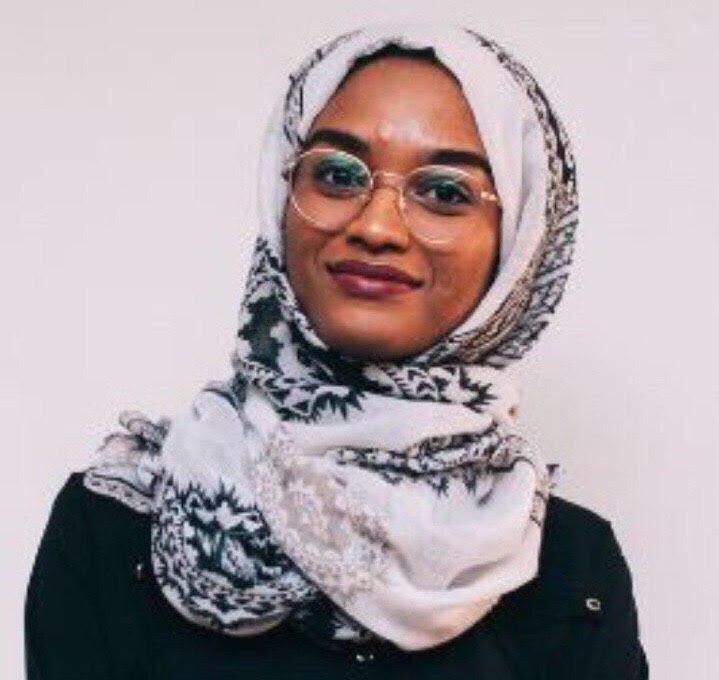 Nashwa is a public health master student from Sudan. She has experienced unemployment herself, and has since committed herself to creating job opportunities for young people, filling the gender gaps in the market and encouraging youth to innovate instead of wait. In 2018 she founded Fadfada for psychological and psychotherapeutic counseling to combat mental health stigma and promote psychological wellbeing by providing easier, more convenient, professional and technical solutions; that is online counseling with accredited therapists through mobile applications and raising psychological wellbeing awareness.
The youth are major stakeholders in any policy making process. If our voice is heard, our perspective is understood, our challenges are viewed; policies will be well designed, formed and implemented, which will lead to positive, long-term and sustainable impacts.
Wiem Chamsi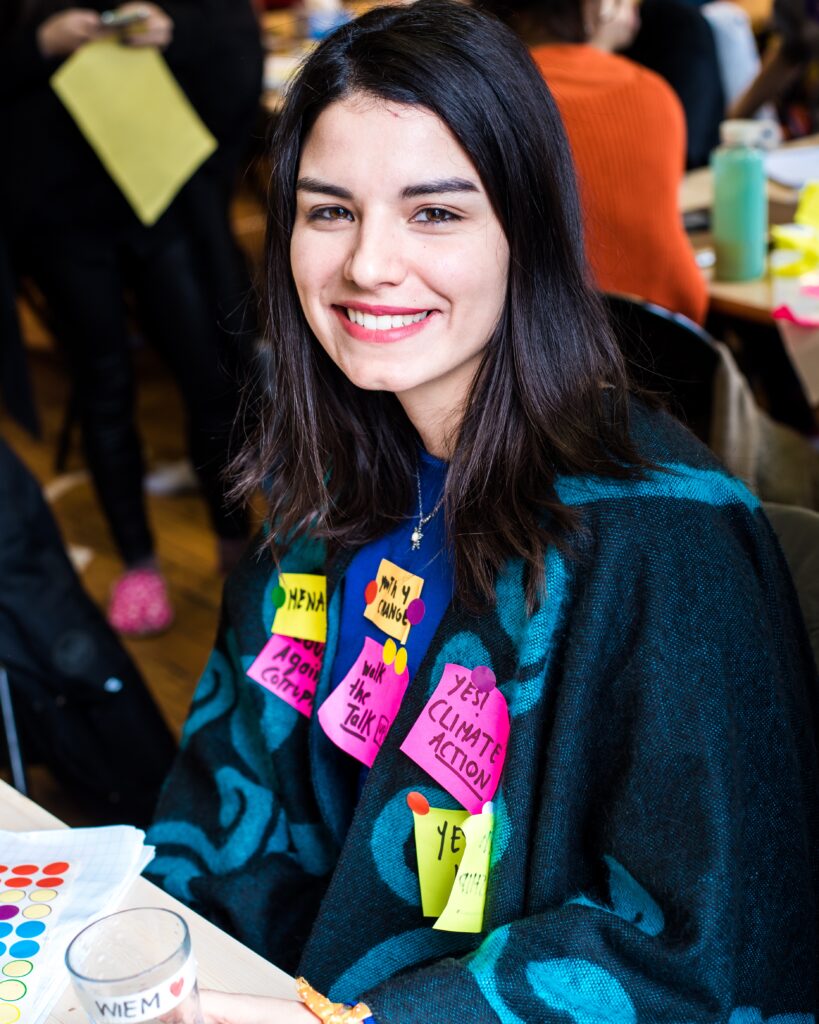 Wiem is a youth activist, ocial innovator, trainer and junior civil society consultant. She is the founder of Youth For Change, a local youth-led movement working towards sustainable development, social entrepreneurship and youth leadership. She is consistently advocating for sustainable change, fighting corruption within the humanitarian sector, climate change and meaningful youth participation in decision-making.
Youth has been on the front lines fighting against COVID19 and they should be meaningfully contributing to the recovery efforts. This young generation doesn't need someone's voice, everybody has their own.
Aime Sawadogo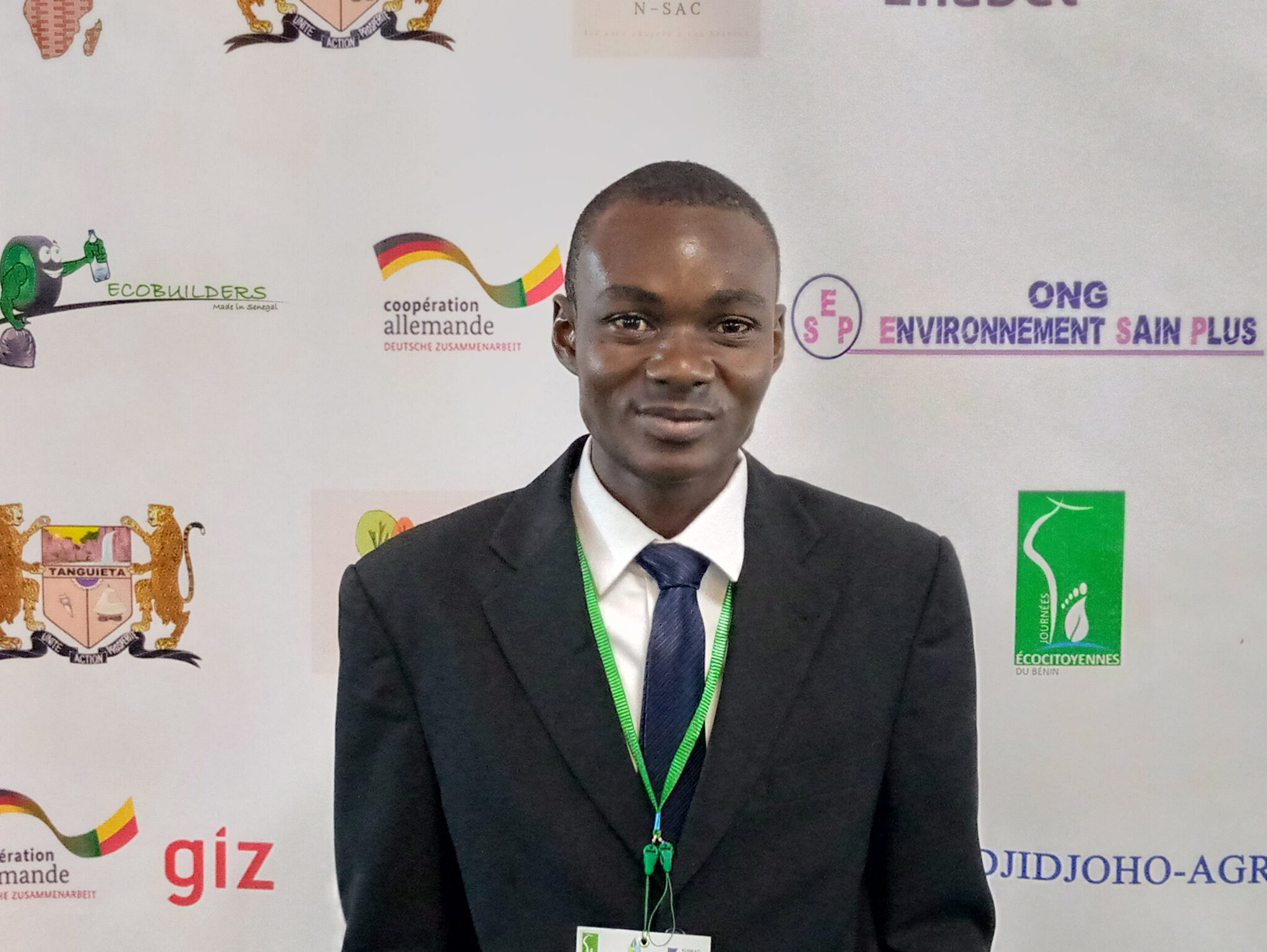 Aimé is a civil engineer who promotes cheap, ecological, and resilient constructions with local construction materials to benefit vulnerable people. He recently worked with the UN SDSN Youth, to produce the COVID19 Rapid Response Solutions for Cities Report, and with Seed of Hope for Africa, to sensitise children living on the streets of Ouagadougou. He promotes endogenous resilience to COVID19. He honed his leadership, public speaking, and diplomacy skills as part of the Model African Youth Union. He contributed to train 145 young leaders from the Economic Community of West African States for a better world to create opportunities for millions of young Africans in the areas of education, employment, entrepreneurship, and engagement.
Young people do have their word to contribute to fighting against COVID19. Together, we will overcome COVID19.
Maram Tebini
Maram is a graduate student in clinical psychology from Tunisia. She is passionate about public policy, socio-cultural
justice, and the strategic integration of diverse communities. She tries to promote and advocate for youth engagement in public and political spaces, whenever she can. Her experience in grassroot organisations emerged from her belief that the power of change resides in the subaltern's capacity to speak and create movements. She identifies as a north African and an intersectional social actor. Her research tackles issues like racism, cultivated resilience, and political discourse.
Creating evidence-based research on the COVID19 pandemic is crucial for the development of a socially and psychologically informed response to the issue. Youth have been an active part of the response to the first wave and should an integral and active part of any further study.
More from young leaders.