Using sign language to promote disability inclusion.
It really bothered me to see young people living with disabilities not being able to access education. To make it worse, they have to face stigma and discrimination existing in the society towards them. This has to change.

Anastazia, 22, Igalako village, Tanzania
Young people in Anastazia's community in Tanzania experience challenges like poverty, unemployment and inaccessible healthcare services on a daily basis.
However, for young people living with disabilities, these problems become twice as hard. Their health conditions make it more difficult for them to access basic education and healthcare.
Learning about disability inclusion.
On learning about the challenges people living with disabilities face in her community, Anastazia decided to pursue a Bachelors of Education in Special Needs at the University of Dodoma.
I wanted to get more knowledge in disability inclusion and learn how I can help people living with disabilities access equal opportunities and social services like non-disabled youths. And I wanted to change society's mindset towards people living with disability.
In 2018, during her first year of studies, Anastazia became aware of Restless Development through the Restless Development Dodoma University Network.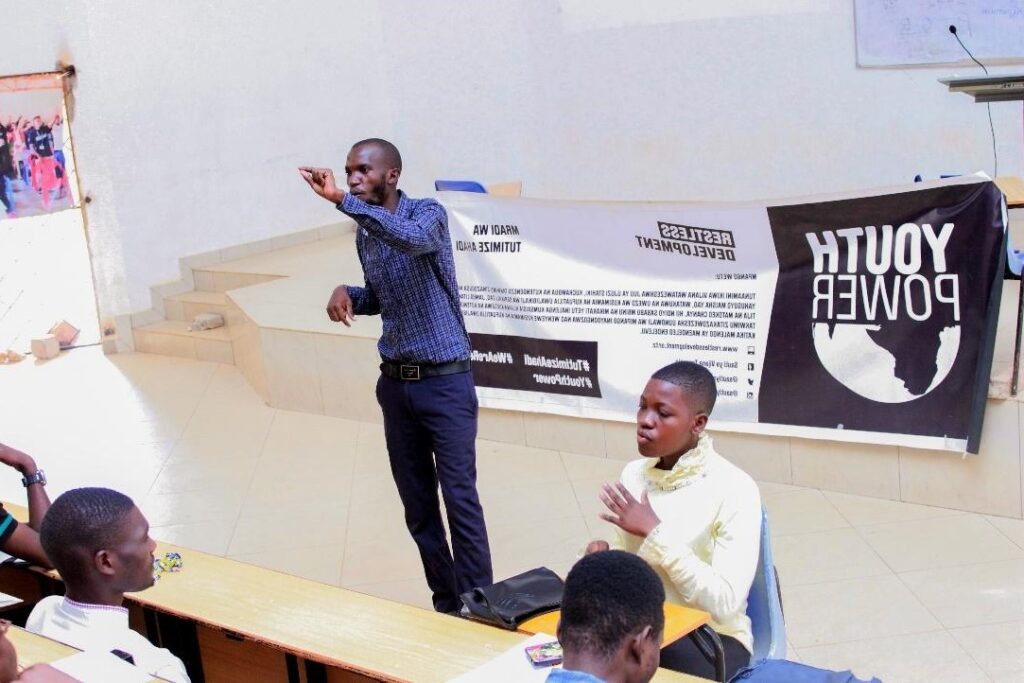 I saw how motivated Restless Development's young leaders in the Dodoma network were towards mobilizing other young people, and how they learnt to tackle community challenges together through their workshops. This made me want to become one of them.
Supporting young people with disabilities to advocate for their rights.
Anastazia is now in her third year of studies and has acquired good sign language skills. Anastazia combines what she learns from Restless Development with her passion to promote disability inclusion. 
Through Restless Development, I got to learn about how to advocate for youth rights including young people living with disabilities and also strengthen my leadership skills.

Anastazia
During workshops, Anastazia uses her sign language skills to communicate with young people with hearing impairments and helps them learn about their rights and how they can advocate for them. Anastazia also signs for young people with hearing impairments during university lectures and works with them so that they can access healthcare services. 
To multiply her impact she volunteers to teach in schools for young people with special needs and educates her community about prioritising the rights of young people with disabilities.
We cannot achieve meaningful youth engagement if young people with disabilities are left behind. Services should be inclusive and accessible to people living with disabilities.