Kids raise £83000 for UK's largest children's fundraiser
853 pupils from 29 local schools took part in the Knight Frank Schools Triathlon at Royal Russell School on Sunday 23 April.
10 year old Albane from Falkner House School raised £1,726 with her team.
Series of 8 events will be raising almost £1m. for charity this April-May, with support from local volunteers and businesses.
The rain on Sunday didn't dampen the spirits of 853 school children who came together at Royal Russell School to take part in the Knight Frank Schools Triathlon, the UK's largest fundraising event for children. In teams of four, they swam, cycled and ran over 1,600km combined, the distance from London to Barcelona and have so far have raised over £83k. An inspiring story of local children supporting young people around the world.
This is a national series organised by global youth charity, Restless Development. This year, more than 7,500 pupils will be taking part to raise over £95 is a truly community cantered day, with local businesses and over 2,000 attendees coming together for a feel-good event. Generous volunteers and Royal Russell pupils kindly gave up their Sunday to ensure the event ran smoothly.
Lots of inspiring stories came out of the day including top fundraiser Albane (age 10) who raised over £1,700 together with her team, Flying Falcons. which will support more than 80 charities. Thanks to event sponsor, Knight Frank the much needed funds raised will go directly to charity. Royal Russell School has hosted the event since it began in 2015
I signed up with my team to take part in the Knight Frank Schools Triathlon because we wanted to make a difference and do something fun at the same time. Although I enjoyed all the three sports, the swim was my favourite – I really love being in water. The cycling was especially tricky due to the amount of rain

Albane

Essah (age 9) raised £83 by writing handwritten letters to his friends and family asking for support.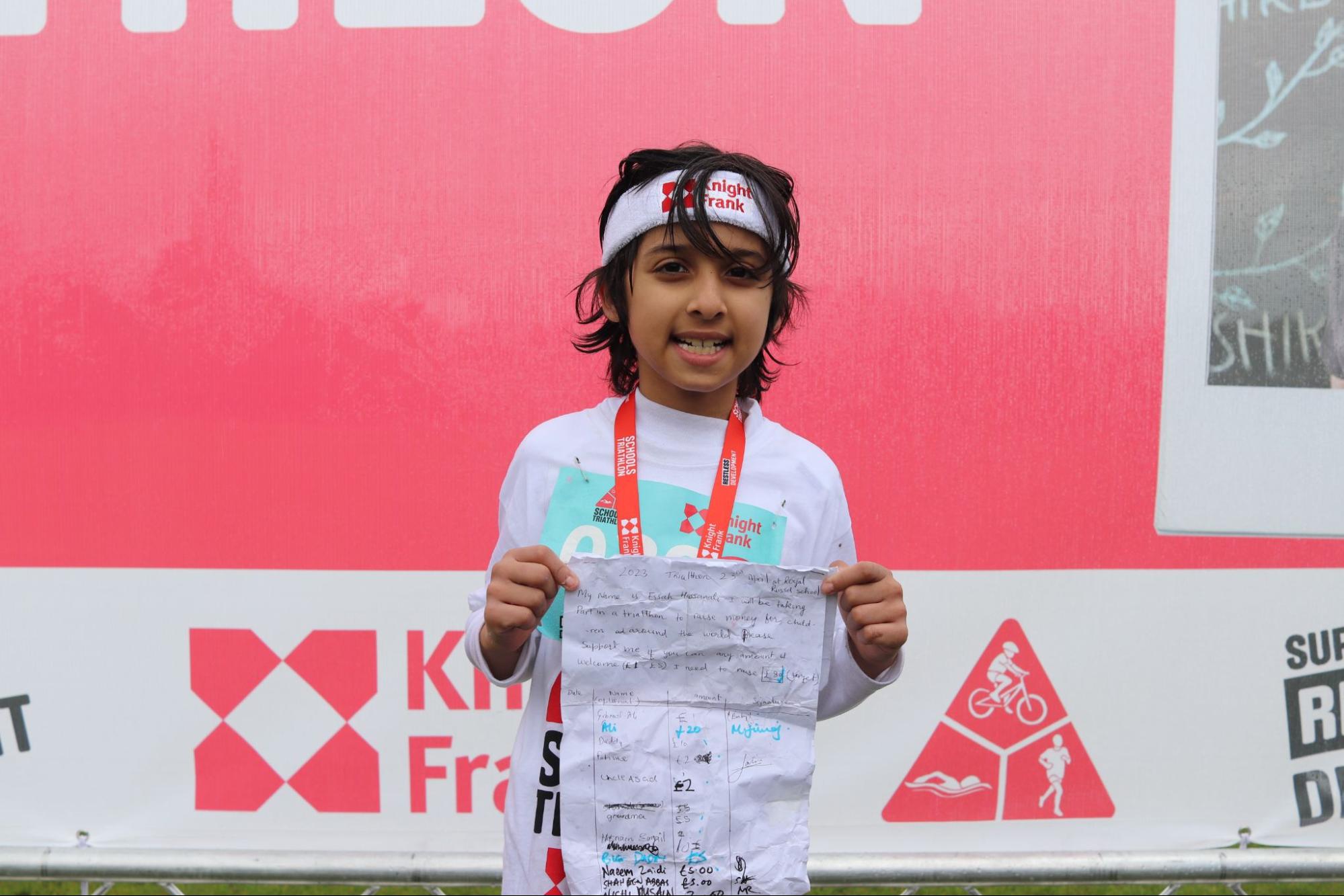 I asked people to sponsor me and explained the cause. As it was Ramadan, we were meeting a lot of family and friends. I wrote a letter explaining the cause and let them sign it to support me. I believe that no matter how young or old you are, if you really want to help you can do it by supporting each other.

Essah
The Knight Frank Schools Triathlon is an event which captures the power and compassion of young people. See you there next year!
Email the Schools Triathlon team to be involved in 2023 events schoolstriathlon@restlessdevelopment.org with the subject line 'Volunteer' or 'Sponsorship'.