The Transforming Education Summit (TES) in September 2022 seeks to mobilise political ambition, action, and solidarity to transform education. But the success of the Summit is under threat.
Unless young people are in the driving seat , the Transforming Education Summit will fail. For the Summit to be truly transformational, it must be powered by young people, especially those from countries most severely impacted by the growing education crises and where most of the world's young people live.
Young people, especially from the global south, are missing from essential conversations. Even when we are included, we are often not truly listened to. We have a right to be heard and influence decisions.

Inés Yábar, Youth Power Manager, Restless Development
Missing: Have you seen this young person?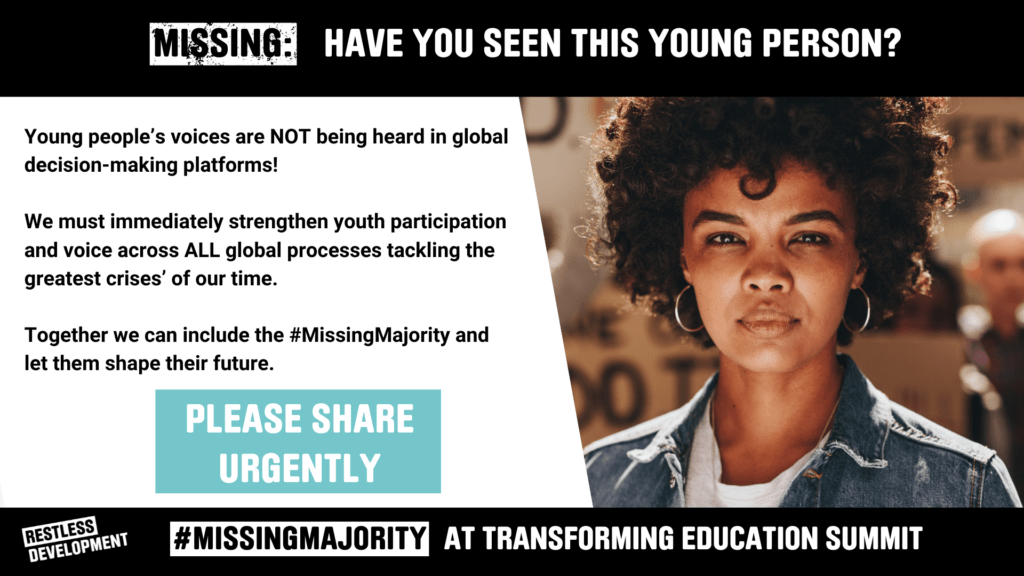 Do YOU want your voice to be heard at the Transforming Education Summit? Use the form below and send us your message to receive a special #MissingMajority poster featuring you!
Our Missing Majority Representative will take your message to leaders at the summit next week, and continue to put #YouthPower at the centre of everything we do!
Young people want to lead the movement to transform education.
Young people are demanding radical change to global education systems. In a fast-changing world, outdated teaching styles and curricula are failing to prepare young people for the world of work. And the Covid-19 pandemic has left many more young learners behind.
Young people make up half of the world's population. Not only will they and future generations inherit the decisions made at the Transforming Education Summit, but they also hold the vision, ambition and solutions for an education system that is fit for purpose.
They should be heard at the Transforming Education Summit – not just for their sake, but for the sake of our shared future.
Restless Development is co-hosting a Festival Spotlight Session 'Let's Adapt: Education for Climate Justice' with Save the Children and Plan International, to amplify children and youth perspectives on the need for Ministries of Education, donors, civil society and other institutions to draw the necessary connection between education and climate change.
Want to get in touch? Restless Development's Co-CEO Alex Kent will be attending the UNGA with a small team of colleagues. If you would be interested to meet Alex and her team, or our youth delegation, please reach out to: freya@restlessdevelopment.org