Improving the sexual health and rights of women and girls in Uganda.
The government of Uganda through the Commissioner Reproductive Health at Ministry of Health has committed to working closely with Sexual and reproductive Health and Economic empowerment (SHE) Supporting Out-of-school Adolescent girls' Rights and Skills (SOARS) project with the implementing partners.
SHE SOARS will work to improve access to sexual and reproductive health rights (SRHR) information and services, address-gender based-based inequalities and increase decision making among young adolescent girls in Uganda.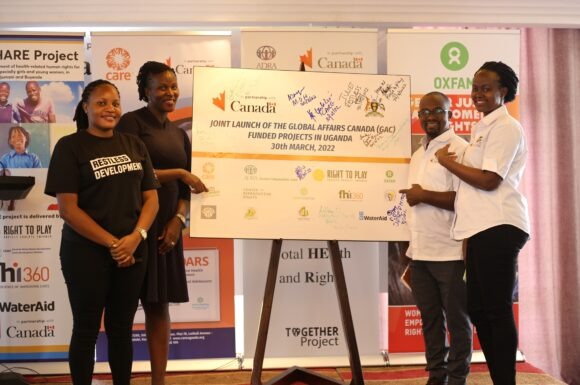 SHE SOARS is a 7-year project funded by Global Affairs Canada.
The project will be working to provide evidence-based sexual and reproductive health information, address root causes of gender-based inequalities, improve health services, and work with young people particularly girls, to promote decision-making about their lives and bodies.
Areas of the project implementation include refugee host communities particularly; Madi-Okolo, Terego, Arua and Kampala districts of Uganda.
Restless Development, Center for Reproductive Rights, Youth Coalition and Reach Out Mbuya will be implementing the project.
When adolescents don't access SRHR services, then the most affected are girls and women. They find themselves pregnant and out of school. In a development perspective, it means Uganda is missing out a lot and this gap has to be bridged.

Kate Churchill Smith, Canada High Commission Kenya
Contribution to adolescent SRHR policies in Uganda.
SHE SOARS contributes to the National Development Plan III (NDP) that is geared towards improving the quality of life of Uganda's population by harnessing the Demographic Dividend (DD).
Good programs have to address the right gaps to have impact. We are looking at this project from a rights and economic empowerment lens. We want to do demand creation of SRHR.

Apollo B. Gabazira, Country Director, CARE Uganda
The project's goals are also aligned with the Ministry of Health Strategic Plan 2020 to 2025. It aims at reducing infant/maternal mortality and ensuring access to quality integrated Sexual and Reproductive Health services.