The winds got strong and the rain kept falling, threatening to create a tide below that could collapse the bridge.

Azeez, Youth Power Climate Rep
Young people make up half of the world's population. But they are being excluded from many of the global conversations on how to tackle climate change.
This is especially the case for the #missingmajority – young people from countries most severely affected by climate change, where the majority of the world's young people live.
Restless Development and our partner Lightful supported five Youth Power Climate Reps from across the world to attend COP26 to share their stories of climate impact and action, and bring as many youth voices into the summit as possible.
Hear from the #MissingMajority.
Read young people's messages to leaders at COP26 on our blog.
Azeez Tobi Abubakar, Nigeria, 22
"Five years ago, I was in a car with my brother, stranded on a bridge in heavy rain in Lagos State, Nigeria. The winds got strong and the rain kept falling, threatening to create a tide below that could collapse the bridge. It was horrifying. I could hear and feel the panic of people on the bridge, awaiting disaster.
"When I got home, I started researching what could have caused it and discovered it was one of the impacts of climate change.
"Not a lot of people have been lucky to survive an experience like this. Many people in my community, especially those who are experiencing poverty, are people who have contributed the least to causing climate change, but are most affected by it. These are the people whose properties are damaged, whose livelihoods are lost, caused not just by flooding but also drought and desertification."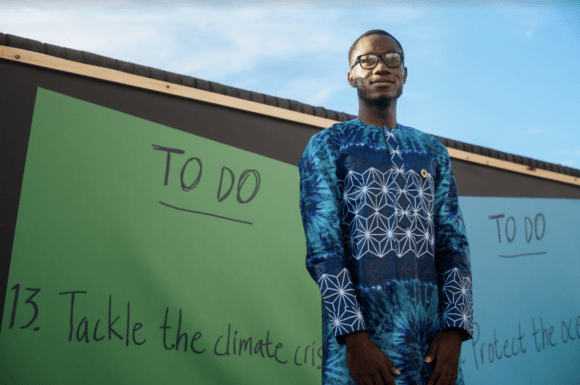 "Yet, governments of developed countries are ignoring the scale of the problem. They have done very little to help developing countries that suffer from loss and damage as a result of climate change. This is not fair.
"I am calling on leaders at COP26 to deliver climate justice for people living in developing countries. As Youth Power Climate Rep at COP, I am advocating for adequate finance to support those whose livelihoods are threatened or have been destroyed by climate change. Developed countries must use COP to help developing countries adapt and build resilience against the climate crisis now."
Want your message shared at COP26? #MissingMajority
We want to hear from you! What is your message to world leaders attending COP? Our Youth Power Climate Reps will take your message and share it at the summit.
Enter your message below, or join the conversation on social media, using #MissingMajority. Read messages shared already on our blog, WeAreRestless.org.