At the end of 2022, Restless Development began convening young people to think about how to make decision-makers sit up, listen and most importantly, act to tackle the climate crisis and transform education.
For the young people we work with, education is crucial to tackling the climate crisis, by helping communities adapt to the impact of climate disasters and transition towards green livelihoods and economies. At the same time, climate change is already having a serious impact on children's education and this will only get worse. Tackling the two crises together is crucial.
Young people understand that action is needed now, but so far, those with power have failed the test. Time after time, summit after summit, it's the same old approach; a mediocre, status quo outcome resulting from an unwillingness to approach these questions in new ways. 
What's the Big Idea?
The big idea started with regional conversations, where young people came together to discuss climate and education issues in their contexts. It also involved one-on-one conversations on social media between young people and experts, with the goal of facilitating as many conversations as possible. The culmination of this series was the Big Idea Relay.
Read more about the regional Big Idea events here: Asia and Africa.
Building a Larger Us: Interviewing Alex Evans
Daniella our GCA youth steering committee member met with Alex Evans, Executive Director of Larger Us to talk about this different approach to change-making. Watch the full conversation on YouTube:
When global issues get really polarised its very difficult for us to get victories that last. So what Larger Us is about at its core is what would be a kind of changemaking rather than contributing to 'them and us' dynamics does the opposite and builds a larger us by expanding our circles of compassion.Alex Evans

Alex Evans
The Big Idea Relay.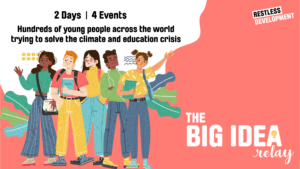 The Big Idea Relay brought together passionate individuals for four impactful workshops spread across 24 hours to generate creative ideas about how to generate the attention of decision-makers and drive action in addressing climate change and transforming education.
Inspired by the concept of a relay race, The Big Idea Relay unfolded in a series of interactive workshops of 90 minutes. The first session kickstarted with a co-creation process, igniting the spark of ideas. Subsequent events were designed to allow young people to feedback, refine and expand upon them with the support of their peers.
To ensure global participation, our workshops were scheduled at different times, accommodating diverse time zones. This way, young people from around the world were able to join us in this powerful initiative.
Over the course of 24 intense hours, The Big Idea Relay brought together 250 young individuals from 30+ countries. Together, they collaborated in brainstorming, resulting in the birth of 7 impactful "Big Ideas." These ideas hold the potential to make a significant difference in tackling climate change and transforming education.
Click here to view the final set of ideas.
The Big Idea is the first step. Going forward, Restless Development continues to look for opportunities and partnerships to support the development and realisation of these ideas and ensure that young people's insights and creativity is at the heart of discussions around the climate crisis and transforming education.
Missed our previous Big Idea Events?