Bosco's shop
Bosco, 24, smiles as he stands amongst shelves of useful items for sale; washing powder, batteries, packets of biscuits, soap. One side of his shop is piled high with large, cream coloured bags filled. Each bag is packed with sunflower seeds.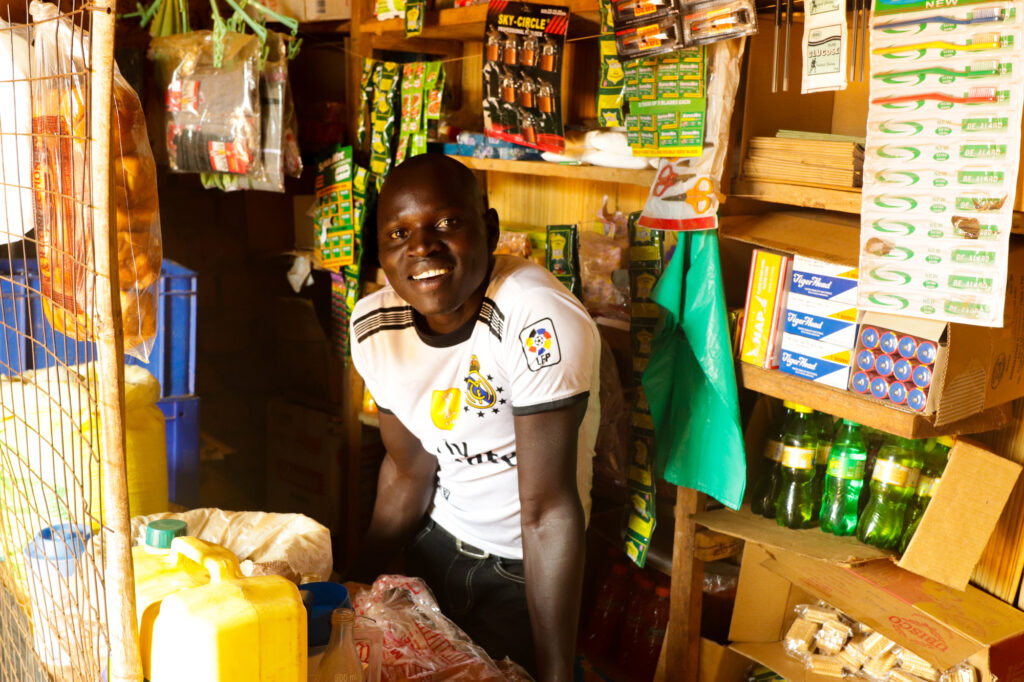 Bosco explains, "There is a large market in Uganda for sunflower seeds."
Customers stream in and out of his shop. They greet him with trust in their eyes; a lady carrying a newborn on her back, children in bright uniforms on the way home from school, a farmer passing by on his bicycle.
The seeds are often used for sunflower oil. After extracting the oil, what remains is used as animal feed for cattle and pigs.
Against the odds
Life has not always been easy for Bosco. He has worked his way up from an early age when he dropped out of school due to lack of fees.
I used to like going to school but my parents couldn't afford my fees. My parents are crop farmers, producing enough to feed the family but not much more.

Bosco
This is the way of life for many in Bosco's community, he explains, "there is food insecurity because of drought. If the weather is not favourable, people go hungry."
Things started to change for Bosco when he met Justine, a volunteer working with Restless Development, who encouraged him to join the Driving Youth-led Agribusiness and Micro-Enterprise (DYNAMIC) project. DYNAMIC supports and mentors young farmers to set up a business. The volunteers like Justine mentor young people like Bosco over 10 months.
Justine is a farmer like me so we can share ideas. Justine explained how I could use my families small plot of land for commercial farming."

Bosco
Justine connected him with Jolah LTD, a agricultural advisory company which trained him and other young people who had chosen farming, on how to manage sunflower seed production and in financial skills.
"They also sell sunflower gains to us at 70% of the usual price."
There are long term benefits by offering young people the initial discount. We train young people on how to produce a quality product, we then buy the seeds in bulk from them, which in turn gets us a small discount. We make good sales across Uganda from this high quality product. People see us as trustworthy. They see the impact this is having on people lives.

Yasinto, a manager from Jolah LTD
Taking his community with him
Bosco now owns two plots of land.
"I now employ two young people to work on the land. Farming can be very hot and sometimes I get so tired, but working with other young people helps a lot. We start early in the morning then afterwards I come to the shop until the evening."
"I have also recruited my sisters, they go to different villages to buy more seeds at a good price. Then we store the seeds here and sell in bulk to the larger companies," he says.
Banks are also partners in the project. Claire, 23, from Equity Bank advises young people on how to open group saving systems.
If a young person has a period where business isn't going as well, the group can support them. In return, when their business is doing well they can support others.

Claire
The DYNAMIC project is having a positive impact on the wider community too. Miriam is a Restless Development Youth Officer working on the project, recruiting young volunteers and overseeing their activities. She says;
"It's important that we train both young men and women on the project. Now we are seeing families making decisions together, deciding how best should they use the money so everyone is empowered. For example on education so girls and boys can stay in school."
Through the project, a total of 159 young volunteers have worked with businesses, banks and training institutions to support 37,720 young people set up businesses across Uganda.
Bosco made 1,500,000 UGX (£300) from his first year producing sunflower seeds. He used it as capital to open his shop. But his ambition doesn't stop there.
"Next I hope to open another branch and employ people to run it. We can even reach markets outside of Uganda."
"With the money I have made I have built a small house with two rooms and bought a motorcycle. In the future, I want to grow my sunflower seed business and dream of becoming a landlord, constructing houses that people rent from me."
More about the Dynamic project
DYNAMIC is one of the Mastercard Foundation's Youth Forward Initiatives, ran by a consortium of partners led by GOAL Uganda, Mercy Corps, Restless Development and Voluntary Services Overseas
The Youth Forward initiative links young people to quality employment or entrepreneurship opportunities in the agricultural and construction sectors in Ghana and Uganda. This five-year partnership led by Mastercard Foundation, Global Communities, GOAL, NCBA CLUSA, Solidaridad and Overseas Development Institute will reach more than 200,000 economically disadvantaged young people aged 15–24. The initiative uses an approach that combines market-relevant skills training, mentorship, internships, and access to financial services to help young people better their lives, transition to a sustainable living, and contribute to social and economic change.
Youth Forward aims to demonstrate how working with partners from multiple sectors can lead to greater impact, and influence policymakers and others to adopt and support successful youth employment and entrepreneurship models.
More from our Uganda Hub.