Meet our 10 phenomenal youth researchers. This team from around the world, will analyse the views expressed in our big conversation. Then work to raise awareness about the real barriers young people face moving between education and work.
The youth team will present their findings to governments and institutions at the RewirEd Summit in December, to collectively explore entirely new approaches to tackle education challenges
Danielle is a young leader with a focus on technology and the arts. She currently serves as the Americas region Young Expert: Tech for Health and the co-chair of the resource and investment circle, Transform Health. She is the President of the Faculty of Science and Technology at the University of the West Indies and aspires to become a world leader in technological representation for the Caribbean and Latin America. She is proud to serve on youth councils, representing the voice of young people in technology, education and national issues.
Francis Ametepey is the President of Ghana Students Accountability Network (GSAN), a students-led movement championing SDG awareness, youth inclusion and accountability in development processes in Ghana. He works as the social media and communication officer for Youth Advocates Ghana and African Youth SDGs Summit and actively promotes young people's participation in SDG monitoring processes. He hopes to improve African youth participation in shaping the development agenda on the continent. Currently, Francis is studying Development Communication at Knutsford University College Ghana.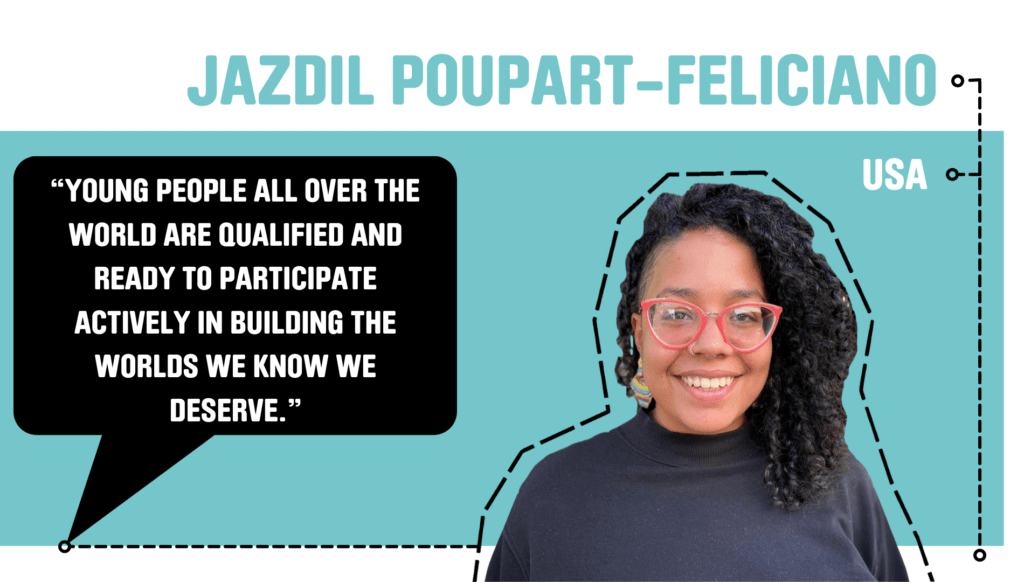 Jazdil is a Black Caribbean queer activist and human rights educator from US-occupied Puerto Rico. She has studied sociology, education and gender and sexualities and is happiest when surrounded by children and dogs. The beach is her favorite place to rest and dream of worlds beyond binaries and prisons.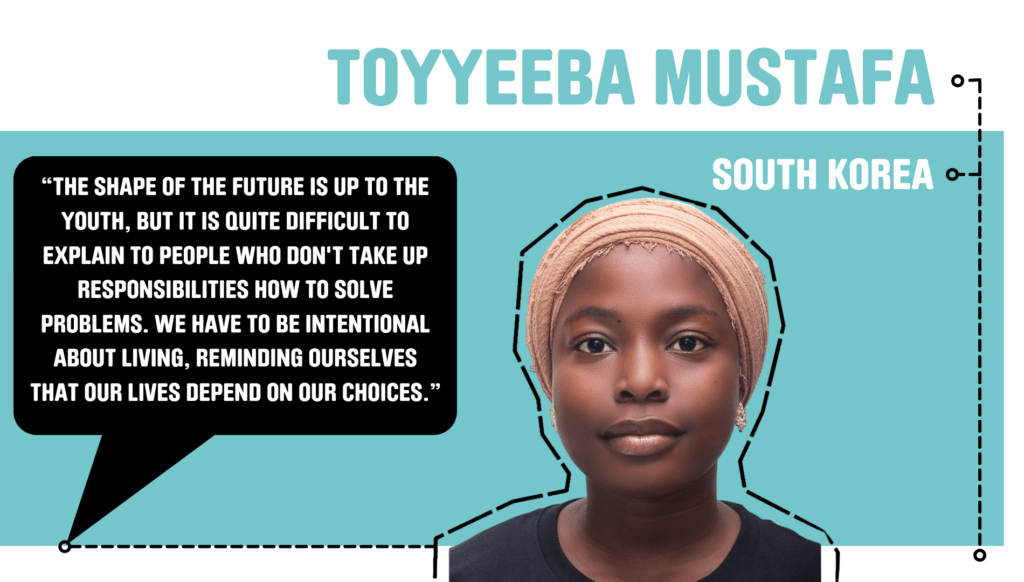 Toyyeebah is an experienced mathematician currently studying for her Masters in computational mathematics and numerical analysis, working as a graduate researcher at the Kyungpook National University (KNU), in South Korea. Toyyeebah is a strong IT professional, digital marketing enthusiast and a community and youth developer who specialises in developing algorithms for solving evolutionary problems. She is open to learning, networking, and volunteering with profit-making and non-profit organisations towards achieving the SDGs. She has a particular focus on eradicating poverty, securing equal education, and protecting the environment.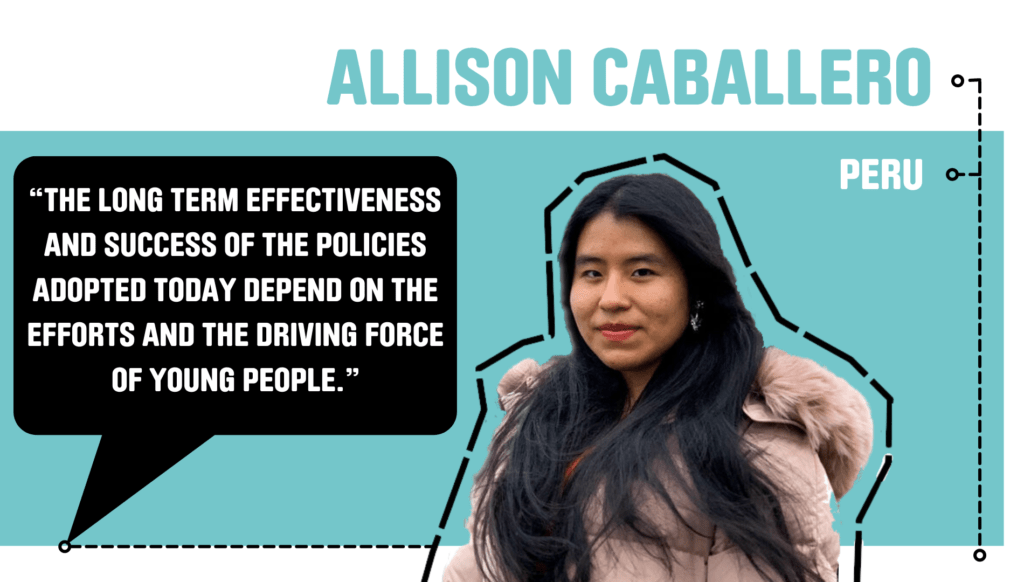 Alisson is a Peruvian Indigenous descendent currently doing a double major in Biotechnology and International Studies at Korea University. Since 2018 she has been working with youth organisations, local and international NGOs in issues underlying Indigenous rights protection, women's empowerment and quality education. In 2020, she was appointed by G(irls)20 as a delegate to represent Indigenous people in the G20 summit 2020 in Saudi Arabia where along with other young women, she has formulated actionable policy recommendations presented to G20 leaders.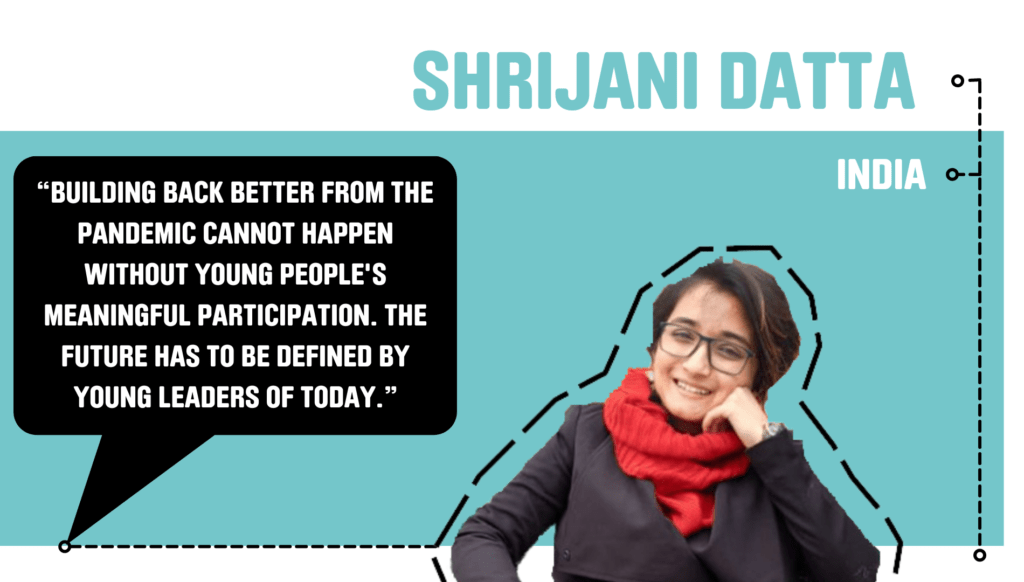 Srijani Datta is an 18 year old climate activist from New Delhi, India. She is a student of Sociology and leads research teams at Youth For Climate India and Fridays For Future Delhi. She launched a digital campaign called 'Period Start of Story' which advocated for access to menstrual products during the pandemic. She is currently developing a sustainable sciences course for undergraduate girls, to bridge the gender gap in STEM careers.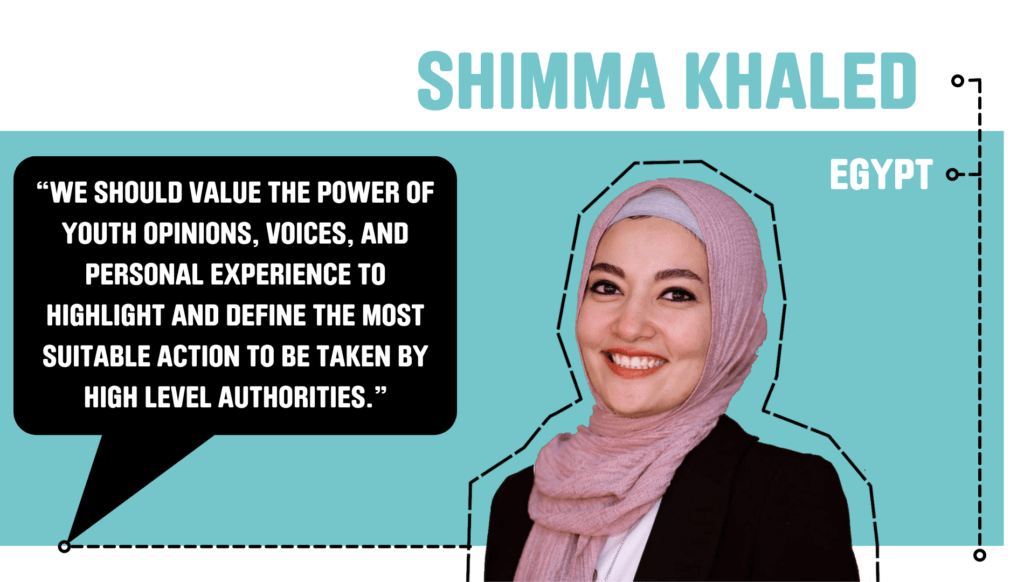 Shimmaa is an education expert and social entrepreneur focused on improving the quality of education. She empowered over 13,000 students and teachers, and has been recognised as one of the best 50 innovative educators in Africa. She is studying for an education technology Masters at Arizona State University and is an education expert at the AU-EU youth cooperation hub, enhancing the exchange of best practices between Africa and Europe.
Mohammed A. Sheikh is a 20 years old Oil and Gas Engineering student from Somalia. He considers himself a 'forever student,' eager to both build on his academic foundations and stay in tune with the latest updates on his major through continued coursework. He also teaches English as a Second Language (ESL) for refugees through BLUMONT International. This is where he established his own initiative, which aims to awaken hope, inspire, and mobilise refugee youth to make a vital contribution to their community and to a shared future in the place that they are in through technology.
Nicolò Passaro is a writer, journalist, and communication's intern for FAOU University, a researcher for the youth division of Unesco and a delegate for peace with the PeaceX Organisation. He holds a Bachelor's degree in Environment from the University of Catania in Italy and is an Erasmus recognised Climate Change Specialist. He fights against scientific disinformation and cognitive biases everyday as an administrator for Wikipedia Italia and was an Italian Delegate to the Youth SDG Summit 2020. Outside of his work and activism he loves writing, history, philosophy, science and cinema.
Carolina is an articulist in various legal journals in Latin America on issues of business law, gender equality and entrepreneurship and one of the Youth Delegates of the Third Cohort of UNITE 2030.
She is a Law graduate, specialising in Business Law and currently studying for her Master's, with a focus on commercial law at Shanghai University of Finance and Economics. She has diploma in International Defense of Human Rights from the University of Zaragoza – Spain and a Diploma in Defense of Women's Human Rights at Universidad Austral – Argentina.