Each year, around one million young people enter the job market in Tanzania, yet their access to formal employment is incredibly limited.
Young people face a range of challenges from accessing capital to skills mismatch, resulting in high unemployment rates. Women and girls face additional challenges as one in three girls are married before 18, face teenage pregnancies and drop out from school.
A girl is more likely to drop out of school during the preparatory time before her marriage or shortly after. As a wife or mother, she is often expected to take care of the home, children and extended family.

Ilumbo
Young people have told us that they want to start their own business so they can support themselves, their families and their communities. Restless Development is supporting thousands of young people like Ilumbo to be financially independent and make a living. Together, we can help even more.
Ilumbo is 19 years and has always understood the value of education. She grew up with her father, who is a Primary School Teacher, who supported her to complete her studies.
My father had a big influence on my education within the family environment and at school. Learning from him as a father and a teacher. I developed better moral values, convictions, attitudes and well behaved cultural relations in the family and my community'

Ilumbo
During Secondary School, Ilumbo got pregnant and was forced to drop out. She tells us that it was a difficult time in her life but she was determined to be self-sufficient and make a living for herself and her unborn child.
Married girls face many practical barriers to education, including household responsibilities, stigma, forced exclusion from school and gender norms that keep them at home. Sometimes getting pregnant automatically forces you out of school. Once married it becomes Impossible for a girl to remain in school

Ilumbo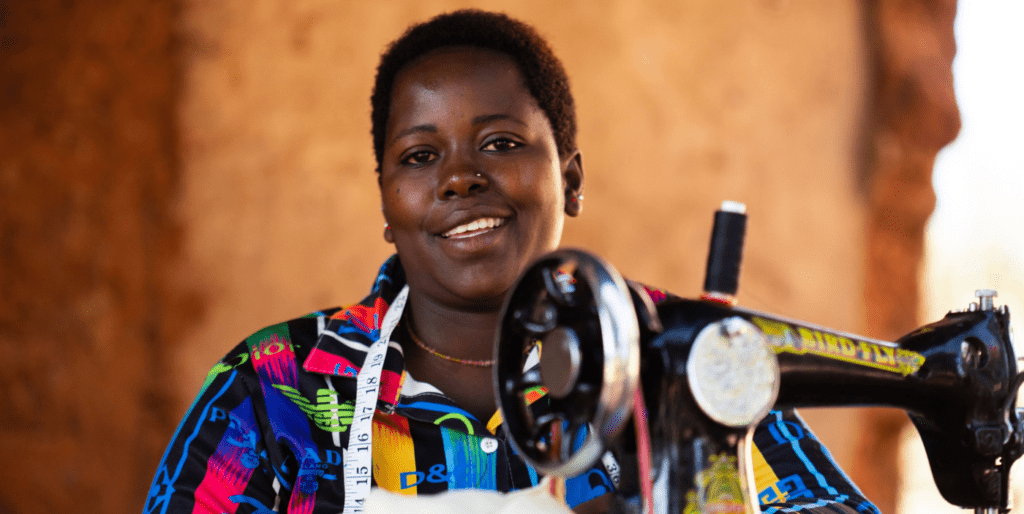 Ilumbo was selected to take part in Restless Development's Youth Can project after she was identified by the local government as a vulnerable young mother. Ilumbo learnt business skills and started her own sewing business with a capital of 50,000 TZS (about £20) after being provided a sewing machine to help her startup. Her business has already grown and she makes 20,000 TZS (about £8) net profit each week.
It was not easy to raise my child without sufficient family and financial support but through my business, I have managed to pay for my daughter's expenses and now she is very happy and healthy!

Ilumbo
Through the programme, Ilumbo also learnt about sexual health. She now shares her knowledge by bringing together women and girls from her community to teach them about family planning, violence, periods and pregnancy.
She has already seen changes in the community. Parents now understand the importance of education for girls and the effects that come with early and forced marriages. Girls are no longer ashamed of talking about periods and childhood marriage rates have decreased.
Ilumbo is excited to go back to school at a Vocational Training Institution to expand her knowledge on business skills and her business.