Livelihood diaries from Nepal and Indonesia during COVID-19.
To deepen our understanding of young people's experience of the COVID-19 pandemic, Restless Development, Rutgers WPF Indonesia, and the University of Cambridge worked with cohorts of disadvantaged young people in Indonesia and Nepal on a youth-led, diary research pilot. The work was funded by the Asian Development Bank.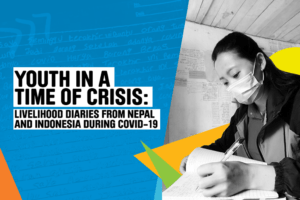 The aim of the project was to assess the livelihood impacts and responses of young people during COVID-19, captured through four months of diary entries written by young people aged 15-29. The research also provides insight into how to conduct pandemic-safe, qualitative research.
The project complements existing quantitative studies on youth employment and COVID-19, by focusing on specific groups of vulnerable young people and seeking to understand their everyday lives during the pandemic.
Rich and detailed diary entries collected over 16 weeks, provide nuanced longitudinal data on vulnerable groups' lives throughout the pandemic. They also offer an avenue for pandemic-safe and climate-friendly social science research. Analysis of 1,418 diary entries gives a view of pandemic impacts among vulnerable young people a year into the pandemic, offering insights for policy makers to help prioritise the needs of little-heard and disadvantaged young people.
Want to know more?