Youth Power at COP26.
In 2021, Restless Development and our partner Lightful supported five young climate activists from across the world to travel to Glasgow to bring as many youth voices into COP26 as possible.
Meet the 5 Youth Power Climate Reps.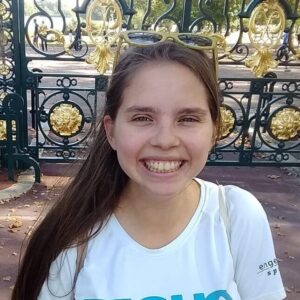 Inés Yábar, Peru
Inés is a 25 year old sustainability activist and works for youth organisation Restless Development. She is one of the founders of Ensemble pour TECHO, an organisation seeking to eradicate poverty through the joint work of young people and community members, and co-leads L.O.O.P., a grassroots women-led Peruvian social impact company conserving the marine ecosystem.
Inés says:
"I am lucky enough to be attending COP26, but I shouldn't be 'lucky'. Young people make up half the world's population. We need our place at COP26, to be heard, to make decisions and to take responsibility for the changes we need to make happen so that we can avert climate disaster.
Azeez Tobi Abubakar, Nigeria
Azeez is a 22 year old young leader who focuses his activism on helping communities worst-affected by the climate crisis. Azeez co-created the Nigeria Youth Consultation on Climate Change (NYCCC), and has represented young people at many global events, including the World Bank Group Youth Summit on Resilient Recovery for People and Planet. He is also Policy and Advocacy Chair of the Commonwealth Youth Climate Change Network (CYCN), BeyGOOD and Global Citizen Fellow and World Economic Forum Global Shaper.
Azeez says:
"At COP26 I want to champion action for positive change to protect the most vulnerable communities across the world from the effects of climate change. Their experiences and voices are too consistently missed from the decisions and action taken on climate change.
Andrew Tangang, Cameroon
Tangang Andrew is an ex member of the Restless Development's Youth Power Panel – a group of activists holding leaders to account for their Global Goals commitments. He is a community activist in Cameroon and worked with ICAD Enterprise in implementing the 'Green City' project in the University town of Dschang, and to set-up a waste recycling centre. Ahead of COP26 Andrew worked with the Local Youth Corner team to mobilise over 1000 young people across Cameroon to engage in initiatives aimed at combating climate change.
Andrew says:
"To share the experiences of young climate activists in Cameroon who cannot attend COP26 in person and ensure that the decisions arrived at reflect their aspirations. I've been working with thousands of young people in Cameroon and will be doing everything possible to bring their experiences to the summit.
Poonam Ghimire, Nepal
Unfortunately despite being accredited and invited to attend COP26, Poonam's visa was not issued.
Poonam Ghimire is a 26 year old climate activist and an ex Next Generation Fellow at the United Nations Foundation. She was the former Head of the International Processes Commission at the International Forestry Students Association (IFSA). She is currently active within a number of major UN led processes, including the 26th session of the Conference of the Parties (COP26) of the UN Framework Convention on Climate Change (UNFCCC) and the Convention on Biological Diversity (CBD), working to make sure young people are included. Poonam started her advocacy journey at the age of 11 by writing a play that called for the equal education of girls in Nepal.
Poonam says:
"Due to a delay in my visa, I cannot attend COP26 and share my experiences with policy makers. With that, I became part of the #missingmajority that Restless Development and other young people were worried about being absent during the major decision making happening at the summit.
Andrew Mugonza, Uganda
Andrew is a Ugandan environmentalist and climate activist who dedicates his time to working with marginalised groups of people in remote areas to adapt to climate change. Andrew raises awareness about climate change where most organisations or activists can not go, working mostly with rural girls and women, and young people in the remote areas of Uganda. He mobilises local communities to plant indigenous trees, fruit and medicinal plants and helps schools in rural Uganda to set up environmental clubs that promote climate literacy. Following a lack of media coverage of environmental and climate change issues, Andrew started an online media platform called Whisper Eye to report about climate change. He is currently volunteering at Fridays For Future Uganda as a community mobilizer and liaison officer.
Andrew says:
"For over three weeks, I've not gotten a response from the UK high commission in Uganda regarding my visa to attend COP26. I feel very disappointed and frustrated at the same time. My efforts to represent my community which is suffering the impacts of climate change have been hindered by a visa."
"We can not claim to be fighting for climate justice when voices from the global south are being denied visas and prevented from negotiating with the global north. COP26 to a large extent has turned out to be a meeting of polluting countries, making it less inclusive. When you limit participation of countries like Uganda, you silence those worst affected by the climate crisis.
"Voices from the global South need to be heard, need to be listened to. I would like the world to get first hand information of an activist from a country that is suffering from the climate crisis at the hands of developed countries. COP26 presents an opportunity for me to represent my fellow young people, lobby for them, negotiate on their behalf and make our case for climate justice.
Despite being accredited and invited to attend COP26, Poonam and Andrew's visa was not been issued.
In recent weeks Andrew has launched a new report, Young Ugandan Voices for COP26, a reminder of the crucial insights missing from COP26, when young leaders like Andrew are denied access. Poonam and Andrew also wrote about being part of the #MissingMajority, their unique climate activism journey and their hope for decisions made at COP26.
What did young people have to say to decision makers at COP26?
We asked young people from across the world to send us their messages to world leaders attending COP. Our Youth Power Climate Reps will took over 107 message and shared it at the summit.