Young people in Uganda helping in the fight against the COVID-19 pandemic.
Young people are working to stop the spread – of the virus and of harmful misinformation in their communities. From radio shows to record releases, young people are acting to help control this pandemic in Uganda.
Youth can kick covid-19 out of East Africa survey report.
We conducted a regional youth survey we on the impact of COVID-19 on the lives of young people in East Africa, in partnership with the YouLead Consortium and partners.
A key finding was that young people in East Africa want to be more involved in fighting covid-19. Some of the recommendations that the young people shared, were that:
Governments have work to do in addressing the impact of covid-19 on citizens' lives, while also creating more concrete roles for young people to support in stopping the spread, while organisations should work together to support young people and hold governments accountable, ensuring that the potential of young people is properly realised in fighting against covid-19 in East Africa.
Airjay's Story
Airjay, a young volunteer with our Civil Society Unleashed (CSU) programme who wrote two songs in his native Ngakarimojong language to raise awareness about the CoronaVirus in the Karamoja region, and counter the false information related to COVID-19 that was spreading in the region.
To help, I am raising my voice, in the form of songs of awareness to contribute towards the government's efforts to keep us safe.

Airjay
Learn about covid-19 in your native language
We partnered with UNFPA, Prezi and youth partners to share information about COVID-19 and how young people are helping in the response, focusing on everything from mental health to sexual health, and also answering some burning questions you might have about whether you'll be affected, or how you can take precautions. Watch some of the videos in Lusoga and Langi– at the end of each video, you'll be able to record a version of the same video, in your own context and preferred language!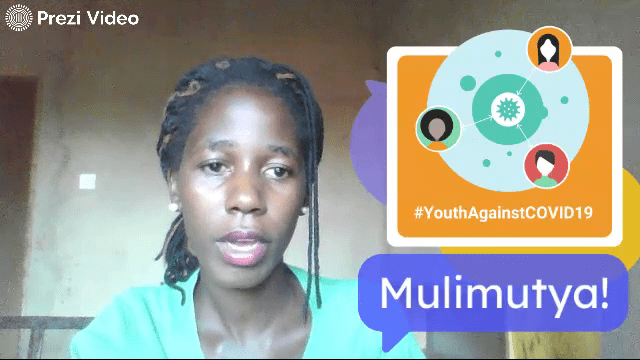 Feeling Restless?
Are you curious on how to lend a hand in community efforts around you to fight the COVID-19 pandemic? Visit our #FeelingRestless campaign here for tips and ideas on how young people around the world are coping, staying active and helping to fight the pandemic from home.