Young people are experiencing the devastating effects of the climate crisis all across the world from rising temperatures and extreme heat weaves to drought. Young people are responding to this crisis urgently and continue to work for a sustainable future.
Parvati is a 28-year-old Youth Climate Champion working with Restless Development on the Youth Climate Action Lab Project. As a child, Parvathi, remembers spending a lot of time at her grandparents' home in Bangalore, India surrounded by fresh greenery. As she grew up, she noticed that the greenery around her had disappeared and was instead being replaced by concrete jungles and air pollution.
"I felt sad to see how human activities had destroyed the environment and accelerated climate change. I wanted to help mitigate its effects, especially in my own city. This led me to join Restless Development as a Youth Climate Champion."
As a Youth Climate Champion Parvathi works with communities of informal settlements at Akshaya Nagar, where solid waste management is a major problem. Garbage is often strewn outside people's homes in the area which has put their well-being at risk.
With training from Restless Development, Parvathi has successfully conducted solid waste management awareness programmes and surveys to identify solutions to the community's problems
I was able to inform community members about the importance of waste management, waste segregation and waste disposal. This knowledge will help them tackle environmental pollution

Parvathi
Parvathi has also been actively building a rapport with the community and its stakeholders to create action plans to tackle community problems.
"Restless Development gave me the opportunity to work closely with communities and understand their problems. This enabled me to exercise my leadership, advocacy and problem-solving skills in the climate space and inspire other young people to join our team as changemakers."
Parvathi is determined to keep working in the climate and sustainability space. She wants to spread awareness about the environment, climate change and sustainable development goals to inspire more young people to join the global fight against the climate crisis.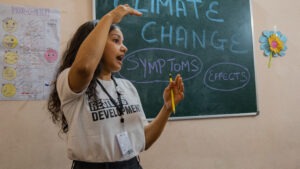 "I believe that it is possible to mitigate climate change through long-term collaborative effort, with people joining hands at multiple levels and working towards achieving sustainable development goals. Tackling climate change might seem like a herculean task, but every small step in the positive direction counts."