"We often hear that young people are the leaders of tomorrow, I believe we are the leaders of tomorrow but our job starts today."
Devika is a biotechnology, chemistry and zoology student living in Bangalore, India. She was 16 years old when she decided to tackle the detrimental impacts of single-use plastics. This was when she realised her true passion for climate action. She wanted to take action but didn't have the support she needed as a young person trying to make a difference.
"Young people are immensely passionate and have innovative ideas, but they also possess the ability to turn these ideas into realities, Having experienced first-hand the disregard for young people in the climate change space, organisations like Restless Development are of the utmost importance."
Restless Development taps into the potential of young people and amplifies their voices. This is why I applied for the Youth Climate Action Lab.

Devika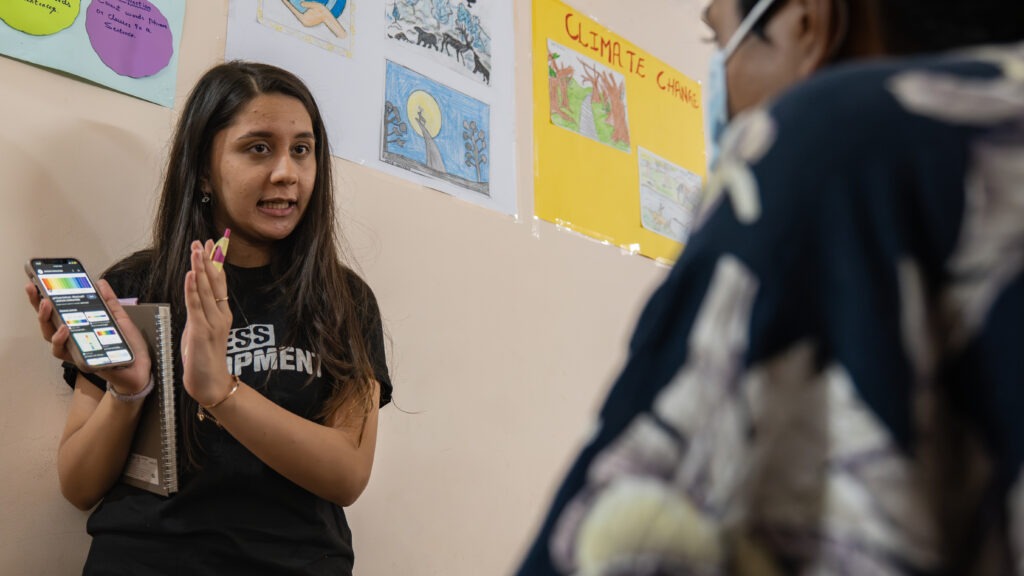 Working with communities.
The Youth Climate Action Lab, organised by Restless Development, is a youth-led movement that addresses the issues of climate change in Bangalore. Devika is now a Youth Climate Champion in DJ Halli, a diverse community that houses immigrants from across India. Water and waste management are a big problem in DJ Halli as the water often gets mixed with sewage and drainage water, which makes it unusable.
Devika has been working with the community to understand the impacts of climate change on their lives and collecting evidence-based data to advocate for the people of the community. She has also been promoting climate education by holding training sessions with young people in the community and involving them as changemakers to promote and understand climate change.
Devika was able to attend COP27 in 2022 and advocate on behalf of the community of DJ Halli. Several sessions were conducted on the #MissingMajority campaign to ensure that the voices of all young people were heard, not just those who had the resources to attend.
Through the Youth Climate Action Lab I had the opportunity to understand the concerns of the local communities in Bangalore and amplify their voices on a global platform such as COP27

Devika
Future aspirations.
She also discussed intergenerational climate activism and the importance of understanding different generations' perspectives of climate change and how we can all work towards a better future
It has been a wonderful experience, because being there I learnt a lot about the power of young people. Even though it was such a diverse set of people in one room our goal was common and that was climate action, no matter which community we belonged to we were all there with just our passion
Devika wants to work with even more communities in the future and represent them on a global platform where they can receive recognition as people who are facing the brunt of climate change. She would also like to focus on promoting climate education.
I feel quite optimistic about the future. Although we have a long way to go to combat the climate crisis, the creation of a diverse set of spaces for more young people to get involved has led to tremendous progress. After all, small steps lead to big changes

Devika