Climate change is one of the most pressing issues affecting young people. Young people's vision of a better world is threatened by climate change and related systemic problems such as inequitable access to resources.
Mayur is a 21-year-old biology student from a small town called Wardha Maharashtra and is currently studying biology at Azim Premji University, in Bangalore, India. As a teenager, Mayur joined a protest group to prevent 200 trees in his area from being cut down for a road expansion. The protest saved the deforestation of 100 trees. 
Having witnessed the power of collective action to make a change, Mayur was inspired to study climate change and spread awareness about how it affects young people.
Now studying biology at Azim Premji University, Mayur has grown more interested in learning how climate change has affected the natural world and its resources.
Young people are most likely to be impacted by climate change. Even though they make up over half the world's population, they are systematically excluded from conversations around climate change and related systemic problems.
"The effects of climate change are going to affect young people right now. They should be most concerned and it's their actions that are going to help us tackle climate change. It is important to take action right now."
Whatever we do today is important for the results of tomorrow.

Mayur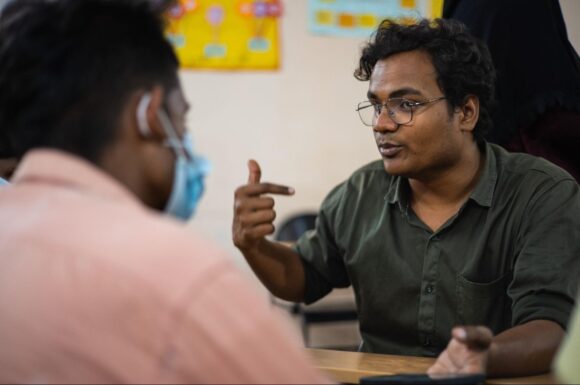 Mayur's friend, Akash, introduced him to Restless Development where he became a Youth Climate Champion. The Youth Climate Action Lab is a youth-led movement that addresses the issues of climate change in Bangalore, India. With training from Restless Development, Mayur has conducted surveys in his community and led workshops to spread awareness on issues such as waste management and deforestation.
"Before working with Restless Development my understanding was that climate change only affects animals or natural habitats. But now I know how it affects people and our communities, including our jobs or food security."
The biggest challenge Mayur faced was the ability to engage communities. By making the workshops inclusive for women to attend, they felt more comfortable participating and interacting with Mayur and his colleagues.
"This experience has helped me grow as a leader. Even doing small things has motivated me to continue to do more for the good of the community."
Mayur's dream now is to continue learning about sustainability while working alongside organisations like Restless Development to contribute to the well-being of the planet.
"If I had unlimited power, I would want governments around the world to come together and work on climate change because, at the end of the day, it affects everyone."