"I'm going to be a doctor and help community members."
Sangeeta is a 14-year-old student from Ganjam, India, who wants to become a doctor.
Like many girls, Sangeeta has been facing gender discrimination at home. Sangeeta's father has made attempts to make her drop out of school to fund her brothers' education. He also wanted Sangeeta to get married at a young age.
In India, conversations and interventions to make progress towards gender equity and improve child rights have been doing rounds in communities. However, the reality for many girls like Sangeeta is not keeping up.
The digital gender divide.
India accounts for 50 per cent of the gender digital divide in the world.*
Only fourteen per cent of scientists, engineers and technologists are women, substantially lower than the global 28 per cent. Many girls and women in India are being held back in STEM (Science, Technology, Engineering and Maths) when it is predicted that in the next decade eighty per cent of jobs will require STEM skills.
The power of dreams.
Even though Sangeeta lacked support from her father, she continued studying to achieve her dreams of becoming a doctor to impact the lives of people.
It was during this time when Sangeeta was introduced to the Youth Resource Centre at her school, run by Restless Development.
A ray of hope entered my life when a Restless volunteer introduced me to the Youth Resource Centre.

Sangeeta
STEM for Girls.
The Centre is part of the STEM for Girls programme where adolescent girls are educated on Science, Technology, Engineering and Mathematics, and encouraged to pursue STEM careers.
The Centres help girls to come together, participate in skill-building sessions and learn through the available technology devices.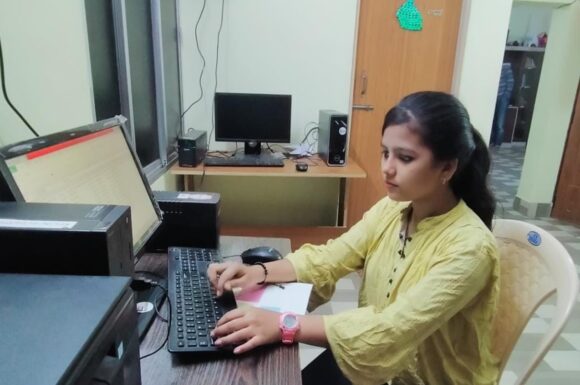 Moving away from tensions back home, Sangeeta began to visit the Centre regularly. She was able to focus on her goals when she was at the centre.
Sangeeta enhanced her technical skills and problem-solving abilities. She attended Ideathon and Hackathon sessions which helped her gain leadership and critical-thinking skills.
Working for change.
To tackle the situation at home, the Restless volunteer suggested Sangeeta start sharing the learning from the Youth Resource Centre with her father. Sangeeta gathered the courage and told him about her dreams, likes and dislikes, and her plans to become a doctor to help people.
Today, her father's thoughts on women and girls have started to change. Her father shows a keen interest to listen to her daily learnings from the STEM for Girls programme, and how she wants to contribute to the progress, growth and stability of her family.
The power to bring a change in our lives lies within all of us. We only need to recognise it.

Sangeeta
At present, Sangeeta is on the right path to achieving her ambitions. With regular engagements at YRC, Sangeeta has become confident enough to start working to support her family with daily expenses.
*Bridging The Digital Divide in India: A ground report
Get Involved
£1,000 could provide 40 girls like Sangeeta with STEM skills training.
DONATE