Youth Power is the answer to the world's biggest problems
The Global Goals, adopted in 2015, are a promise to end poverty, reduce inequality, and combat climate change. But at the current rate of progress they will not be achieved by 2030.
Young people stand ready, and united, to make the Global Goals a reality.
Collective action from young people is already changing things for the better, like the youth-led school strikes on climate change. Young people are fighting FOR fairness, justice, and the environment. They are fighting AGAINST inequality, persecution and climate change.
The Youth Power campaign will help bring youth activists together, providing technical advocacy and campaigning support, establishing systems of learning and collaboration as well as funding, resourcing and amplifying grass-roots youth-led campaigns all over the world.
#YouthPower Global solidarity in COVID-19
The panel host a series of vlogs exploring the impact of COVID19 around the world and the amazing youth-led initiatives tackling the pandemic.
Get involved and use your youth power to change the world.
The Youth Power Panel
The Youth Power panel is a 8-strong panel and comes from all over the world. They will be instrumental in organising the biggest youth generation in history to make the world a better place. They will support and connect local grassroots campaigns with funding; amplify youth actions that are creating change; developing tools to help young people everywhere track the goals and hold their leaders to account for their delivery.
Adelin Pierre is a young environmental activist from Haiti. He is currently serving as UNLEASH Ambassador and Disaster Risk Reduction Regional Focal for Americas & Caribbean at United Nations Major Group for Children and Youth. Mr. Pierre is passionate about sustainable development and advocates for a better world where every single person including young people can enjoy their rights and realise their full potential.
Adelin's Activism Tip: "Prioritise collaborations with other like-minded people and organisations."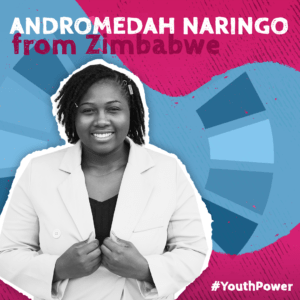 Andromedah Naringo is a young Zimbabwean woman passionate about enhancement of young people's SRH rights and youth livelihoods. She holds an Honors Degree in Development Studies and is a volunteer at Youth Aspire Development Trust as the Youth Livelihoods Coordinator. Naringo strongly believes that development is only meaningful when young individuals are given access to opportunities and services to shape their future.
Andromedah's Activism Tip: "Fact-check your statements!"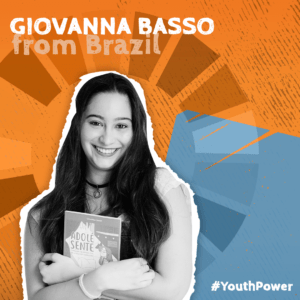 Giovanna Basso is a 19-year-old gender activist and author of the book "Adolê Sente" [Adolescent]. In 2021, her Girl Up Club campaigned for the government to distribute menstrual products to girls in public schools in Brazil. She is a founding member of Global Fund For Women's Adolescent Girls Advisory Council, fostering a teenage viewpoint on participatory grantmaking and feminist philanthropy and granting over 300,000 USD to girl-led organizations in the Global South. Giovanna wants to fall in love with the stories of girls and women around her.
Giovanna's Activism Tip: "Harness your anger into power and magic."
Ragib is an accountant by profession but a passionate youth advocate at heart. A former President of AIESEC in Bangladesh, he has worked actively to empower young people in achieving the SDGs ever since the start of the national chapter. In his current capacity in Asian Development Bank's Youth for Asia team, he supports the team in integrating Meaningful Youth Engagement (MYE) components into development projects all over Asia and the Pacific.
Ragib's Activism Tip: "Find your team, start now. Big change is a ripple effect of a million small events, find people you can rely on and work with and just start. It doesn't matter how small."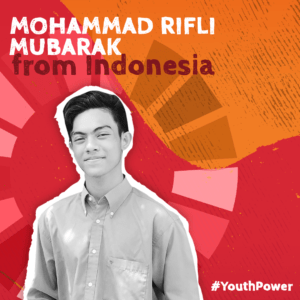 Mohammad Rifli Mubarak is a young advocate from Indonesia who has experience conducting youth-led research projects to advise policymaking. He was a specialised Researcher in ALSA Indonesia Board 2020-2021 and as a panelist in the California Youth Leadership Summit 2021. Rifli co-founded the Bara Asa Project, a platform that helps young people within the dimension of self-development in Palu, Indonesia and also as the Founder of Trauma Tropisme, a storytelling platform that aims to educate people about the perils of mental violence.
Mohammad's Activism Tip: "Start by knowing the root problem that you would like to solve. Find the people who have the same interest and concern and it is okay to be slow but sure."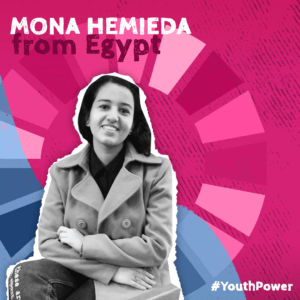 Mona Hemieda is a 23 year old Egyptian civil society activist advocating for ending violence against women and girls in the MENA region. She leads the regional graduate program with The Arab Women's Legal Network , which aims to increase the influence of young women on decision-making. Mona is interested in International Human Rights, studying crimes against women and the environment and advancing women's role in raising awareness and building capacity in the prevention of atrocity crimes.
Mona's Activism Tip: "Know the target group of the campaign clearly. Use the right words to speak to them. Partner with the NGOS or platforms that have access to them."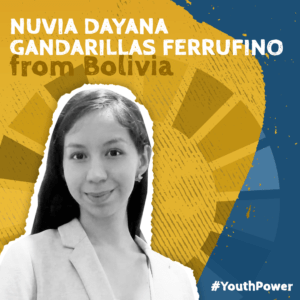 Nuvia is a young proactive and committed activist based in Bolivia, who has been working actively for the last three years to promote the fulfillment of (name 2-3 issues) SDG 2, 4, 5, 11, 12, 13 and 15, in her role as a volunteer and coordinator of various activities. Nuvia is now enrolled at university studying for her bachelor's degree at college while she learns an official native language and sign language. Currently, she works as a volunteer in Volunteers for the SDG's in the education area, with activities for children and young people in the rural area of Santa Cruz, Bolivia.
Nuvia's Activism Tip: "Start local. The main resource you need to start is time, not money"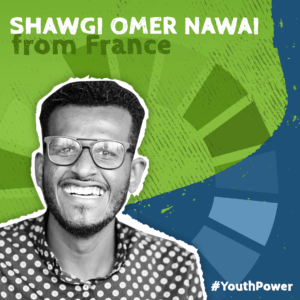 Shawgi Omer Nawai is a youth advocate and social activist from Sudan, with vast experience in the non-profit sector and a special focus on community development.He is also a core team member of the "Global Citizenship Education Youth Network" and Co-Chairperson of the "Education above all" youth advocates initiative. He is the co-founder of PLACE network, where he works to change mainstream narratives about migrants in Europe and matches them with entrepreneurship, employment, public leadership, and higher education opportunities.
Shawgi's Activism Tip: "It's not about the final destination, it's about the journey! Own your space and buckle up!"
Get involved.
Are you interested in joining the youth power panel and other young people to work towards the Global Goals? Join our Youth Power Facebook group to connect with other young activists and get involved with the campaign.
Discover more.