Young people leading in shaping the education and opportunities that impact their lives.
We want all young people to have the skills, knowledge and opportunities that set them up to thrive. When young people have a quality education, and are able to achieve a decent living, then they can drive wider, sustainable economies.
Context
A World Bank study in 2015 estimated that one billion young people would enter the labour market in the next decade, and that only 400 million would be expected to find work if nothing changed. A major target to substantially reduce the proportion of young people not in employment education or training by 2020 was missed. Against this backdrop, came the huge setbacks to the global economy from the Covid-19 pandemic, disproportionately felt by young people.
Covid-19 has also created an education crisis. Young people's career aspirations and working lives are often decided by their education, but not all education is equipping young people in the right way. According to research by the Malala Fund, 20 million girls in low and lower-middle-income countries may never return to the classroom after the pandemic.
Along with climate change, youth education and livelihoods are among the defining challenges of our time. The meaningful employment, education and empowerment of the biggest youth generation in history reflects a critical opportunity to accelerate global progress not just economically, but also socially and environmentally, by tapping into the agency, potential and scale of the group constituting the majority of most of the developing world: youth.
We need to prioritise education as a means of social justice. Education relieves poverty, increases social justice, empowers youth and women. It helps each person to reach their full potential and brings significant economic returns in the country.

Hadia, Somaliland, as part of our Youth at Heart research.
Our approach to Education and Livelihoods
We have over 30 years experience supporting young people's transition to a decent, sustainable living. We have successfully supported young people to remain in education; to gain essential skills; to access formal employment opportunities; and to set up their own businesses.
We've built up a bank of youth-led research and insights on the challenges young people face transitioning from education to a sustainable living. All too often national and global policies and practices to address the youth unemployment crisis have been set up uninformed by young people – our approach is to rectify that, putting young people's realities, lived experience at the forefront of tackling the crisis.
Our track record
Our work has strengthened the employability skills of young people; their awareness of their career options; and supported them to access employment and entrepreneurship opportunities. For example:
In Uganda our DYNAMIC programme increased the employment, income and resilience of out-of-school youth aged 15-24 through a market-driven and holistic approach, engaging public and private sector actors. 20,400 young people increased their income and 4,000 youth saving groups were established.
In Tanzania, the East Africa Youth Inclusion Project (EAYIP) was a groundbreaking programme that specifically targeting young people in agriculture. We equipped 25,000 young people aged 15-24 with the skills to create youth owned and managed businesses accompanied by employment opportunities around dairy hubs and other agricultural value chains. 92% of young people engaged in the programme acquired employment opportunities; young people saw a 22% increase in their incomes, and over £30,000 has been saved by more than 2,000 young people in 2019.
In India, our Disha (Hindi for 'Direction') programme created employment and entrepreneurship opportunities for young women from disadvantaged communities in New Delhi. The model is transformative and tested: more than 5,400 young women between the ages of 18 and 35 gained access to skills education training centres. The programme is delivered through motivated and trained Young Leaders (Skills Sakhi's).
Girls Education
We have also supported thousands of girls and young women across the world to remain in or transition to education, which will involve focusing more widely on the multiple barriers they face.
Our Power Up appeal for girls' education in Sierra Leone
In Zambia our Girls 2030 programme provided weekly career and skills clubs in schools to help girls and young women take control of their lives by navigating the issues that lead to them dropping out. Sessions cover sexual and reproductive health; financial literacy; the basic skills neeed to start enterprises; and career's guidance. The programme resulted in girls staying in school. Readmission to school of girls who became pregnant went from 9% to 82%, and that the number of girls transitioning from grades 9 to 10 from 47% to 57%.
In Sierra Leone our Leave No Girl Behind works with adolescent girls (13-17 years) who have never been to school or dropped out for more than two years at primary level to have significantly improved learning outcomes and have transitioned to education, training or employment. We provide safe spaces for them to learn; mentoring; and community facilitators engage in conversations with communities to ensure the rights of the girls are respected and barriers faced by out-of-school girls are removed. In 2020 alone we closely supported almost 33,000 girls to enrol in the programme, across 120 communities.
4,000
Savings groups established in Uganda
5,398
young women in India trained in key skills
Youth-led research
Our youth-led research has generated unique insights to influence and inform policy and practice.
Across Africa: Leading the Mastercard Foundation's Youth Think Tank, Restless Development has recruited, trained and supported young researchers to create vital insights on the youth employment challenge in Africa, developing policy-level insight on areas ranging from how young people make a living; to the application of technological innovation in agricultural value chains; to the role of young people in the hospitality sector. Working in strategic partnership, we have supported the Mastercard Foundation to create rigorous insights on critical thematic issues in the youth employment space.
Partnering with The University of Cambridge, we developed and launched a report, Getting by: Young People's Working Lives, exploring young people's experiences and opinions of work in developing and emerging economies. This collaboration between academic and young leaders was launched in a workshop with decision-makers including the World Bank, ILO, DFID and Mastercard leading to a policy agenda for youth employment: Making a Life: a Youth Employment Agenda that will be used to inform and shape youth livelihoods and education policy discourses.
As a young person, I want to have my voice heard and participate in decision making for the future of youth employment and making a living. Working with Restless Development was an opportunity to share my frustrations, worries and views as a young person struggling to make a living.

Moneera Yassien, a 22-year-old social entrepreneur from Sudan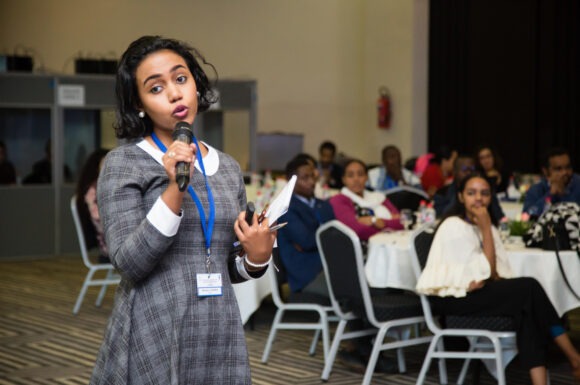 In 2021 Restless Development worked with the Dutch Ministry of Foreign Affairs to recruit, train, and support 12 young researchers across the Sahel, MENA, and Horn of Africa to develop the It's Our Future report. The research – and subsequent Youth at Heart conference – has resulted in three Youth at Heart Principles – along with recommendations for governments, civil society, private and public sector, bi- and multilaterals and knowledge institutions to work in partnership with young people and to invest in the prospects of young people so that they can build better education and work for young people in a post pandemic world.
RewirEd Global Education summit: In 2021, twelve young researchers from twelve different countries led research into young people's pathways to learning and livelihoods; their aspirations; and their active citizenship. They surveyed 3,294 young people from 70 countries across the planet. They found an outdated education system not fit for purpose in a fast-changing world. At the rewirEd Summit, Restless Development supported eight youth delegates to share their Curriculum for Change with policymakers at the summit and call on world leaders to MakeEducationWork. The MakeEducationWork campaign was launched in the lead up to the RewirED summit, alongside the publication of the research: By Us For Us: Rewiring Education for a New Generation.