Is your school up to the challenge?
You won't need ice picks to take on this challenge, but you will need a heap load of determination and teamwork. Let's go!
This is a journey that takes you from the foothills of the Himalayas to the top of the world. Starting in the far east of Nepal, your first peak is Mount Kanchenjunga, the third highest mountain in the world. Past the glacial mountains and through the many districts of Nepal, we'll meet plenty of young leaders along the way – who will tell us their stories about how they're making the world a more just and sustainable place.
Eventually we'll reach Pakistan, home of K2 – the second highest peak in the world. Through the rocky hills and glacial mountains, we'll explore the breathtaking views of this devastatingly difficult climb!
Coming back to the heartland of the Himalayas, our final destination is Mount Everest – our Earth's tallest mountain at 8,848m. This challenge is not for the faint hearted, and you'll really need to pull together to make it to the summit.
When:
From the 9th to the 23rd March 2021.
How to take part:
Register your school online.
Download the activity pack and set up your JustGiving page.
Encourage your pupils (and teachers!) to run or walk as much as they can in the 2 weeks.
Use our App to track your progress (and the very important school's leaderboard…)
Receive rewards, medals and certificates along the way as recognition for incredible achievements.
Support young people to change the world.
PS. Wanting a bit of added competition before the end of the Spring Term? Why not register each of your House Groups or Year Groups to see which one reigns supreme?
Sign up today! Complete the form below:
How your support can help young leaders around the world:
Every year, Restless Development trains, mentors, nurtures and connects thousands of young people to lead change. Young leaders like Bibek.
Bibek (pictured) is a young Restless leader from Nepal, a country where 40% percent of women aged 20–24 are married under the age of 18. Bibek grew up in a rural village in Sunsari, a district in the south east of Nepal. Many children there were married before the age of 10.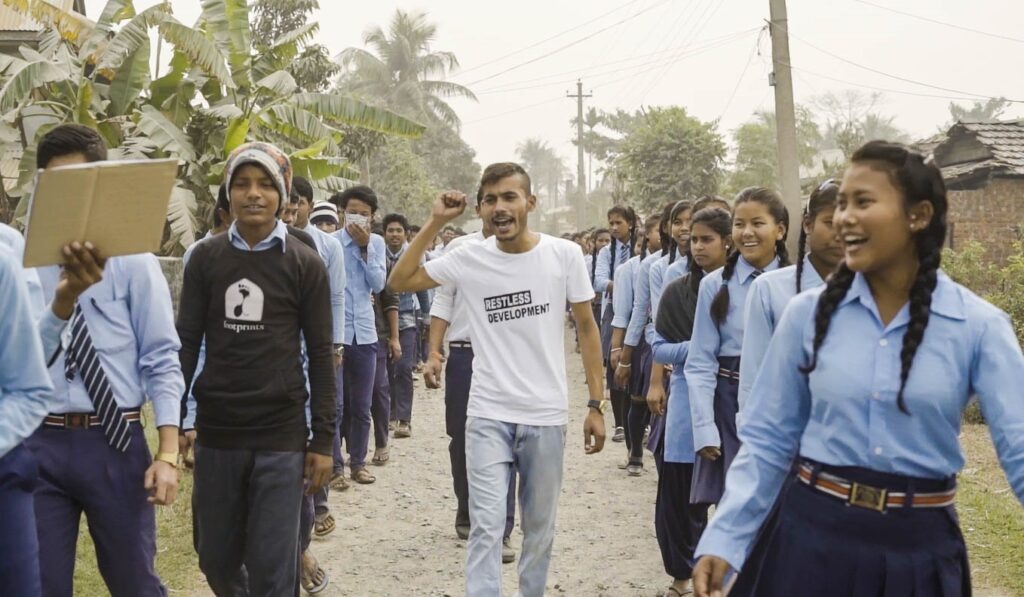 With the support of Restless Development, Bibek began a campaign to end child marriage, working with the local schools and leaders to deliver sessions on gender equality and encourage other local organisations to back the campaign.
The biggest achievement of the program is that we have been able to declare Chandbela Village of Sunsari District child marriage free.

Bibek, Restless Development Nepal
Money raised will support young people like Bibek to improve their lives and the lives of people in their communities.
Register today!