Youth Power at the African Regional Forum.
Thirteen (13) youth advocates will be taking Youth Power to Victoria Falls, Zimbabwe on 24-27 February for the Sixth Africa Regional Forum on Sustainable Development (ARSD).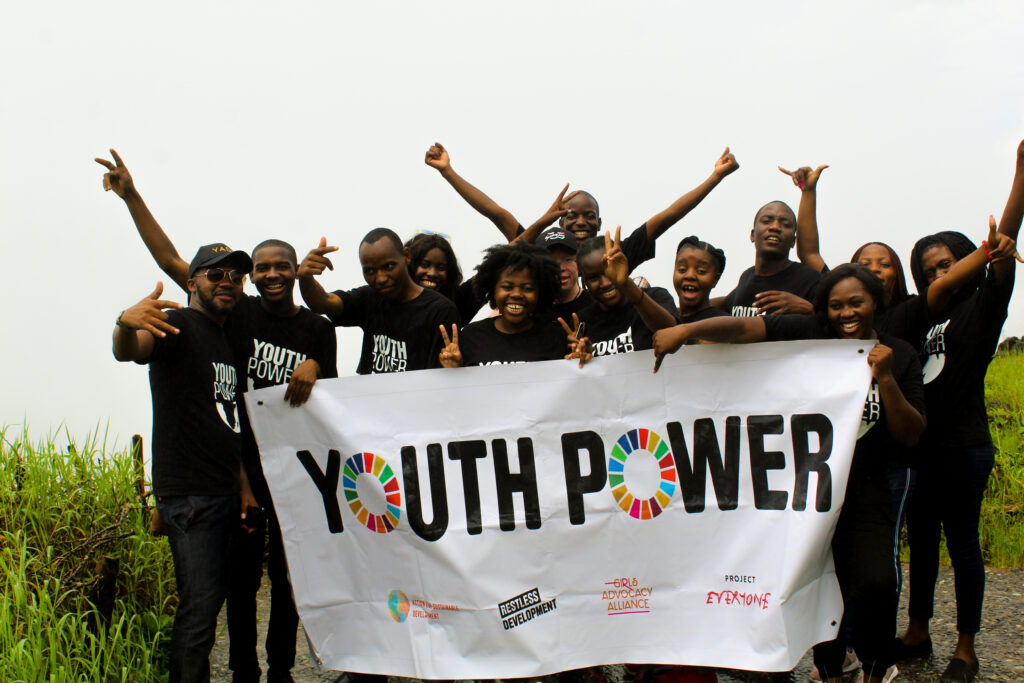 Governments, private sector, UN agencies and CSOs will all attend the Forum and participate in both the formal sessions and side events across the week. Our young advocates from Tanzania, Malawi, Zambia and Zimbabwe will be making sure their voices are heard.
And you can join them on Wednesday 13:00 GMT as we take to Facebook live to bring you inside the conference to discuss youth power and the global goals, and let you know how you can be involved. Make sure you don't miss out by following us on Facebook now.
The ARFSD is an "action oriented" intergovernmental platform convened by the Economic Commission for Africa (ECA) in collaboration with the African Union Commission, the African Development Bank and the United Nations system to review progress, share experiences and lessons learned, and build consensus on recommendations to accelerate progress towards the global goals and Agenda 2063.
These recommendations will serve as Africa's collective regional input to the High-level Political Forum on Sustainable Development convened annually at the United Nations, New York. So it vital that youth voices are loud and clear.
Young people are critical agents of change for the achievement of the Global Goals but they are too often being ignored and overlooked when it comes to the implementation, follow up and review of the Goals. Our advocates will be making the case that governments and development actors must systematically promote and invest in meaningful youth participation in SDG implementation, monitoring and review.
Restless Development will be hosting a full day side event in collaboration with multiple partners titled "African Youth Powering the Global Goals: Intergenerational Learning Festival on Achieving Accelerated Action & Accountability towards Agendas 2030 and 2063" to strategise on how to accelerate action on the Global Goals. We will also be running learning sessions on Youth-led accountability, Voluntary National Review influencing, engaging with Parliaments. As well as convening an intergenerational dialogue with decision-makers to hack solutions.
Meet our delegates
Victoria Aloowo
Victoria is a student at Kyambogo University pursuing a bachelor's degree in Land Economics. She has been an advocate for change and championed the SDGs 3, 5, 8, 10 in Uganda since 2016. She has had ongoing involvement with Restless Development since 2018 as a volunteer team leader on the ICS project and more recently as a gender policy analyst with the Girls Advocacy Alliance Project in Uganda. She has reviewed government policies giving insights on ensuring that girls and young women are free from economic exploitation. Last year, Victoria read and presented a petition with youth issues to the speaker of parliament during the Parliamentary youth moot and became involved in human rights advocacy. She is motivated to see the youth of Uganda take charge of their communities as she believes that so much positive change can be done by the youth because of the strength and potential they carry both physically and mentally
Lekinyi Losioki
Lekinyi is a Youth Accountability Advocate for the Tutimize Ahadi project at Restless Development, Tanzania. He is advocating for the implementation of SDG5 and FP2020 policy commitments against the government of Tanzania through data-driven accountability campaign. He is delivering peer to peer training to young people through created groups on various topics such as gender equality, family planning and youth-friendly reproductive services, active citizens and youth participation, volunteerism and accountability. Lekiny has been able to engage religious institutions such as churches in the project as key partners in disseminating and engaging young people about gender equality and family planning.
Gertrude Gatsi
Getrude is a Deaf Youth Advocate from the Deaf Zimbabwe Trust. She has worked with Restless Development Zimbabwe in the Amplify Change project and has carried out research on Sexual and Reproductive Health Rights and Comprehensive Sexuality Education. She has conducted training to young Deaf students in different schools on Comprehensive Sexuality Education and navigating the world as a woman with a disability. She is viewed as a role model within the Deaf Community due to the work she does in empowering young Deaf women.
Veronica Mwanza
Veronica is a Health Programmes Officer and Sign Language Interpreter at Deaf Zimbabwe Trust. She provides support to Deaf people in terms of promoting equal access to health care services, information and education. She has facilitated Sexual and Reproductive Training for more than 300 Deaf young people. She has also trained Health service providers on Disability Management and Basic Sign Language.
Michelle Mutogo
Michelle is a Legal officer for, and instrumental in the establishment of, Deaf Zimbabwe Trust's Disability Rights Law Centre and works to promote the rights of persons with disabilities through public policy analysis, strategic litigation, provision of legal aid and advocacy. She has conducted court monitoring sessions in Zimbabwe to determine the levels of disability inclusiveness in the justice system and has gone on to engage the Judicial Services Commission with recommendations based on her findings. She identifies gaps within policies and Acts and gives recommendations to relevant decision-makers. Currently, she is working on sensitizing duty bearers on issues affecting persons with Disabilities in Zimbabwe so as to ensure that the decisions they make are inclusive in nature. She ran a project funded by Amplify Change and Restless Development to enhance access to Sexual and Reproductive Health services and knowledge for young people with disabilities in Zimbabwe.
Ishmael Ngwenya
Ishmael is a Community Youth Development Advocate at YES TRUST ZIMBABWE. Ishmael is part of the Amplify Change Programme as a Youth Advocate where he deals with issues on Sexual Reproductive Health and Rights in Youths. He holds a Bachelors Honours Degree in Development studies which enables him to work with organisations that help in social development activities and has demonstrated experience at operational and strategic level for community, regional and national development focusing on civic participation, policy shaping and practice, governance, human rights, sexual and reproductive health rights and livelihoods development.
Ntandoyenkosi Mkandla
Ntandoyenkosi is currently volunteering for Youth Advocates Zimbabwe under the Amplify Change Project as an SRH Advocate. Prior to volunteering with YAZ Ntando was part of the National AIDS Council, Young People's Network on SRH representing Young People with Disabilities. Growing up with Albinism and having to live in a Children's home for about 3 years due to economic constraints that he was facing home life was not always easy for Ntando as he faced issues of low self-esteem and stigma. Despite all the hardships he faced this has pushed Ntando to be vibrant in advocating for the rights of young people with regards to education and social protection. Ntando aspires to be a development practitioner one day who will scale up voices of young people in all spheres of life.
Andromedah Naringo
Andromedah is the Youth Livelihoods Officer at Youth Aspire Development Trust. She is also a member of Women Excel empowering women in rural and urban areas through entrepreneurship skills development. She is a Youth Advocate in the Zimbabwe Amplify Change Network where she has been actively involved in youth led research and advocacy at district level. Andromedah is interested in enhancing livelihood capacities of young people in her community and she has background knowledge on obstacles hindering youth entrepreneurship development.
Thobekile Mkumbuzi
Thobekile recently completed her Bsc (Hon) in Sociology. She is a youth advocate at Elevation Zimbabwe where she is directly involved in fostering youth empowerment by engaging with young people imparting them with life skills and leadership programs. She is also part of the Amplify Change Network that works towards improving the well-being of people and engaging with young people so as to foster sustainability in communities. Thobekile appreciates the importance of improving the lives of youth, by equipping them with necessary skills that will assist in their development as individuals and the society. She also values young leadership, cultural diversity and non- discrimination.
Comfort Choolo
Comfort is a YTT researcher from Zambia exploring the barriers that young people with small-scale businesses face in expanding their businesses. Comfort holds a certificate from Serenje Boys Technical Secondary School and believes youth need a suitable environment to flourish. The question is: who will put this environment in place? He feels that if young people do not do it themselves, no one will do it for them. He is a tech enthusiast and currently runs an IT company that provides internet services in Zambia. Together with colleagues, Comfort is developing a mini banking system for pupils in schools and works very closely with the YTT colleagues to map thought leadership events and activities where they share YTT findings and approaches with stakeholders.
Chisomo Naomi Banda
Chisomo is a Nutrition and Food Science graduate from Lilongwe University. She is passionate about making a difference in her sphere of influence and that is why she is drawn towards international relations and governance. Currently, Chisomo is an avid reader and does freelance writing and editing. Chisomo is interested in global affairs and international relations/development. She is the current Youth Think Tank Governance Team representative from Malawi serving as the Executive Secretary. Her role is to build the Youth Think Tank alumni chapter in Malawi by mobilizing YTT alumni to inform and influence youth events and activities.
To find out more, and get involved in the conversation, follow Restless Development on Facebook, Twitter and Instagram, head over to the WeAreRestless Blog and keep an eye on the following hashtags; #ARFSD2020, #DecadeOfAction #YouthPower
If you are in the media and looking for more information please contact our press contact kenneth@resltessdevelopment.org